Update for Parents / Carers
17th July 2020
Dear Parent/Carer
We have reached the end of an academic year where half the year we were able to enjoy normal schooling and the other half relied heavily on home learning. Thank you for working with us to provide an education for your child.
Reports for students
Academic reports, albeit of a different nature this year, will be available for parents of Year 7 to 10 and Year 12 students on 'My Child at School'.
Year 11 and Year 13 reports will be issued once the GCSE and A level results have been published.
Year 11 and Year 13 summer results
Heads of Year will be communicating the details of arrangements for students to collect their results.
A level Results collection: Thursday 13th August between 9.00am and 12.00pm
GCSE Results collection: Thursday 20th August between 10.00am and 1.00pm
Summer home learning arrangements for students currently in years 7-10
Accompanying the detail set out in my letter to parents last week, in order to support your child's well-being over the summer break, we have devised a number of independent learning activities for them to complete. Task sheets will be made available at different intervals on the Academy website click here to view the page and you will receive an email directing you to it. The first sheet was launched on Thursday, 16th July 2020.
For current Year 10 students, this supplements fortnightly core and foundation revision tasks that subject teachers have set via Google classrooms, which will be also released fortnightly.
Upon their return to school in September, all students should be prepared to discuss and share evidence of the tasks they have completed.
Please remember we cannot neglect virtual school as we must ensure we are prepared for further possible lockdown enforcements.
Arrangements for September return to school
As with all schools we are planning for the return of all students, full time in September. We have keenly observed possible models of schooling that incorporate guidance that was most recently published on 3rd July, presented by other schools and Multi Academy Trusts.
We are carefully considering all options.
Parents and students have worked hard to adjust to remote learning conditions and many students have been successful in gaining new knowledge and new skills, in particular, with respect to the efficient use of IT and time management. With both the reducing of risk and enabling good quality teaching by subject specialists in mind, we are ambitiously working on a more complex model. Our model will still require student self-discipline, hygiene regimes, staggered start and finish times, staggered breaks and lunchtimes as well as careful movement around the site in one way systems. Students will need to wear school uniform. Most importantly, we wish to provide specialist teaching alongside safety measures.
The recent return of Year 10 and Year 12 students has taught us that once in school, students need their specialist teacher in front of them.
Given there are two months between the latest guidance and the start of school in September, we anticipate further changes to the guidance responding to changes in national or local conditions due to Covid. We have a number of variations to our model. Principally we aim to bring back all students in September, starting with the new Year 7 on Friday 4th September. Thereafter other Year groups will return in a staggered way to ensure thorough induction to new regimes and timetables. We will publish exact details in the last week of August to ensure the very latest guidance has been taken into consideration.
We plan for each parent to have an opportunity for a face to face exchange for a return to school meeting alongside their child with the tutor before we reopen fully.
Thank you to all of you for the support for home learning. We were recently able to test a number of our KS3 students who have continued to engage remotely with the Accelerated Reader Programme. For almost all of these students we were delighted to see that their reading ages had progressed at the expected standard. Please continue to promote the importance of reading with your children over the next six weeks.
Meanwhile, please prepare your child to return to school, in full school uniform, in the autumn term so that classroom learning can be re-established and your child can restart their studies in that familiar and much missed setting.
Parent voice
Whilst finalising the arrangements for the safe return of your child to school we would like to hear from you. We have set up an email address so you can email us your suggestions surrounding the return of your child to school. We will not respond to each email but will do our best to incorporate your suggestions into our planning. Please click here to e-mail only for September opening suggestions or concerns. It would be helpful if you stated the year group of your child.
Otherwise, please use the usual communication channels bearing in mind that staff will also be taking a break during the summer holidays.
Education Wellbeing Practitioners – summer programme
The past few months have felt really challenging for many students. Although our teachers will be on a break over the summer holidays, our team of Education Wellbeing Practitioners (EWPs) will be offering support all summer long.
It is very common for students to be experiencing some of the following challenges:
• Worry/anxiety
• Low mood and a lack of motivation
• Sleep difficulties.
If this applies to your child, the EWP service may be able to help with virtual 1:1 support sessions. Click here to download the EWP flyer for more information, and submit the referral form available by clicking here directly to: WandsworthWP@swlstg.nhs.uk.
If at any time you experience an urgent issue regarding child safeguarding, we have set up a welfare line for you to be able to contact a member of staff. Please phone 07437 794201 (Larry Davis, Deputy Headteacher) or 07379 862150 (Sara Sharpe, Designated Safeguarding Lead).
All parents of students with Free School Meals have now been sent a voucher to cover the summer holiday period.
If you require the services of the uniform shop please check here, the details are outlined on our website.
Please take the opportunity to have a break from home learning. Rest assured, working together, parents and the school, we will rebuild your children's knowledge and skills. We have been so pleased to see the return of so many students these last few weeks. We will do our best for your child.
Have a safe and healthy summer.
Yours faithfully,
Wanda Golinska
Headteacher
---
7th July 2020
Dear Parent/Carer,
End of Year arrangements:
We are approaching the end of term and below are the arrangements for closing down before the summer holidays.
| | |
| --- | --- |
| Virtual school provision for Years 7-10, 12 and IG | This will continue until Wednesday 15th July when teachers will begin to mute any interactive communications with students in preparation for the summer break. |
| On-site Years 7-9 provision for key worker and vulnerable children | This will continue until Thursday 16th July and then close down over the summer break. |
| On-site provision for Year 10 and Year 12 and IG students | This will end on Friday 10th July, students will not attend next week. Final teaching will take place on Google Classrooms until Wednesday 15th July. All summer homework activity will be posted on Google Classrooms in preparation for the next Academic Year. Students can submit work but will not be able to engage in virtual conversation with their teachers during the summer break. |
Summer Holiday activity:
Year 7,

Year 8,

Year 9

Work will be published on the website every two weeks and will relate to a fortnightly theme. The work will include wellbeing activities and an i-study style personal development project (with a cross curricular focus).

Year 10

This will be subject based to support revision of prior learning and preparation for the final GCSE year ahead. Each subject will post their activities on their Google Classroom, students will be able to submit work but will not be able to engage in virtual conversation with their teachers during the Summer break.

Year 11: for those hoping to start in our 6th Form

Introductory classes for 6th Form courses have now closed. All those hoping to commence 6th Form courses with us would have been interviewed by now. Students should complete their 'Starter for 12' activities related to their course choices. These are posted on the Academy website from 10th July and will be collected at the start of term.

Year 12

The pastoral team have set work related to the writing of personal statements associated with University applications.

Subjects will be posting revision materials and preparatory work for Year 13. These activities will be posted on Google Classrooms throughout the holiday and collected at the start of term.

International Group students

Summer holiday homework is being set via Google Classrooms. Students can submit work but will not be able to engage in virtual conversation with their teachers during the summer break.
It continues to be a real pleasure to have so many Year 10 and 12 students attending school at present. Our overall goal is to see all students return to school as quickly and safely as possible. Whilst we will be guided by Government advice, planning decisions will always be taken with an understanding of relevant local issues and we will always seek to maximise the safety and wellbeing of students and staff. As always, our governing body will continue to independently scrutinise all of our work and plans moving forwards.
Although there are, of course, a number of uncertainties remaining, at present we are confident that we can establish a 'new normal' in September which will enable all students to attend school on a full timetable.
A very brief overview of today's guidance is available in the following link: https://www.bbc.co.uk/news/education-53253722. Although this is, of course, only a news article, it provides a summary which you may find helpful.
Virtual Timetable
The Virtual timetable was issued this week in response to feedback. The lessons for each day are available in the student's Google Classroom as usual from 8.30 that morning. This offers a structure for learning across the week, with the timetable suggesting a structure for the day. Any queries please get in touch with Sarah Gray, Deputy Headteacher, Teaching and Learning via sarah.gray@southfieldsacademy.com
Year 7 Parent focus group feedback
Our Parent Focus Group met with the Principal this week and during the meeting it was very useful to hear their experience of the Virtual School. They were unanimous in their praise of the smooth running of the online school but did have some questions, which we believe others may have too, so we will answer these below.
Recorded lessons can be watched as many times as you like, so your child can go over any area again where they may not have understood a concept or point.
In some cases, parents can check that work set on Google Classroom has been completed. We are planning to roll out this facility more widely for the new academic year.
We do data collections at regular intervals to identify students who are not engaging with the Virtual School and this is passed on to our pastoral team to make one call to a parent rather than them being bombarded with calls from a number of teachers. As a result, there can be a delay between the student not engaging and the next data collection which will trigger the call home.
We are constantly looking to improve our systems for marking of work and feedback. Please be assured that our aim is to ensure that this is carried out regularly. Where it has been happening less frequently, improvements have been made and further steps have been taken to ensure your child's work is evaluated regularly.
We thank those parents in the focus group for their time and support of the Academy. Please remember, if you have any queries, your child's Head of Year will be happy to address these.
Although I will write next week as the school term comes to an end, please be prepared to read communications towards the end of the summer break in order to gain the latest information.
Thank you for your continued support.
Yours sincerely
Wanda Golinska
Headteacher
---
1st July 2020
Dear Parent/Carer
We have now had more students attend since 15th June following Government guidance. This extended on-site provision has been well received by students who have had well-being sessions followed by lessons that supplement their home learning. This limited provision has enabled us to better support our students, particularly with respect to their welfare, and has improved engagement with the continued predominant form of education on-line. We will not be making any changes to on-site conditions or our safety measures prior to the end of term even if the Government announces changes.
As we maintain the required maximum of 25% of Year 10 or Year 12 students on site at any time, we are inviting Year 7 in small groups on the days when others are not on site, Fridays, in order to provide similar well-being sessions and to support students with on-line learning engagement.
We are waiting for more specific Government guidance around re-opening in September 2020 before we publish our plans for the start of the autumn term. If a full return is expected with reduced distancing protocols alongside other mitigations, it is likely that we will need to phase a return in order to ensure that large groups understand any new regimes that might be required. The safety of our students and staff, alongside their welfare, remain our highest priority not forgetting the educational needs. For educational purposes we continue to grow our virtual school provision in case we will need to revert to on-line learning.
New virtual school timetable
Following feedback from students, staff and parents, we are launching a virtual school timetable to run from 6th-15th July for each year group. Teachers will set their lessons on the morning that the lesson is timetabled, at the same set times each week. This means that students will have structure for the learning that should be achieved that day. The timetables also work alongside the site provision that some students are attending. The year timetables will be shared with parents and students at the end of this week.
Please examine the link below which contains useful advice and resources on learning at home.
https://www.gov.uk/government/publications/coronavirus-covid-19-online-education-resources
Arrangements for Year 11 students
Many Year 11 students are currently completing their interviews for next year so that they secure a place for the next phase in their education. Those hoping to join our 6th Form would have engaged with our Introductory Classrooms (Pre-Post-16 rooms) in virtual school.
Important Year 11 dates:
3rd July – Introductory Google classrooms close
10th July – Starter for 12 activities on Southfields Academy website for students preparing to start Post-16 courses in September.
10th July – Students hoping to study A levels in maths or sciences will need to prepare for a test in the first week of September. Revision materials will be released on 10th July and available on the Academy website.
20th August – GCSE results day: we are hoping to release results on site and expect students to be available to attend a 'Results and Progression' session.
Week commencing 31st August – A level maths and science tests.
Week commencing 7th September – Induction to Year 12. Details to be shared in August. Students must be available to commence 6th Form study.
Summer results:
Thursday 13th August – A level results day. Detail for Year 13 students will be published nearer the time by 6th Form leaders.
Thursday 20th August – GCSE and Level 2 results day. This is for Year 11 and Year 12 Level 2 students. Detail will be published nearer the time.
As the school year begins to draw to a close we recognise that much of this academic year has been spent in lockdown, with students using the internet to access home learning. Any parent still struggling with securing engagement with home learning for their child, please make contact with the relevant Head of Year so that we can support you with this before the term ends.
In the final week of term I will write to parents outlining summer holiday activity and hope to provide some detail about the start of the new academic year in September 2020.
Thank you for your support.
Yours faithfully
Wanda Golinska
Headteacher
---
17th June 2020
Dear Parent/Carer
This week we have seen the first of our increased numbers in attendance. All Year 10 and Year 12 Level 3 students have been invited to attend once a week this fortnight and so far we have
had a very positive response. More than 70% have attended to date and it was a joy to greet
more of our students once again. Once we are confident with our initial activities centred around student well-being and engagement with virtual school, we will plan different lessons to help students to catch-up. There will be no major changes to the shape of our provision this term other than some small changes to timings to incorporate all subjects.
Remote education will remain the predominant mode of education for the rest of this term for all students with some on site provision supplementing this work.
From 22nd June until the end of summer term

On-site provision for vulnerable students in Year 7-9
On-site provision for Year 10 students in small groups.
On-site provision for Year 12 Level 3 students in small groups.
Virtual school continues for Years 7-10, Pre-post-16 (year 11), Year 12 and IG
Parent survey
Thank you for so many positive comments around our provision for your child. Many of you have indicated a high level of satisfaction in relation to the home-learning activities despite the challenges you face at home and those that teachers face with their own new skill sets.
We have put together a FAQs document that incorporates responses to further questions from parents. Please click here to view this document.
Additionally, we have already asked parents of Year 10 and Year 12 students to review our 'Safety Measures at School' document which captures changes to protocols and on-site physical changes to ensure social distancing and strict hygiene regimes. Please take the opportunity to review this document here.
As soon as we receive government direction about re-opening of schools in September we shall write to inform you of our plans. Meanwhile, please enjoy our weekly newsletter Southfields Spirit.
Thank you for your continued support, in particular, with home-learning.
Yours faithfully
Wanda Golinska
Headteacher
---
5th June 2020
Dear Parent/Carer,
I hope you and your family were able to take a break from virtual school over the half term and enjoy some of the better weather that we were blessed with last week.
Thank you to all parents/carers who responded to our survey. We have had over 400 responses and are preparing a FAQs document to share with you soon.
Since my last letter dated 22nd May we have received two pieces of information from the Government that will enable us to move forward. The first "Guidance for secondary provision from 15 June" was released on Monday 25th May. Secondly it was confirmed on the 28th May that the five tests that were set to enable the continued easing of the lockdown were being met.
The "Guidance for secondary provision from 15 June" now enables us to work with the staff to plan to offer some face to face support which will supplement the remote education for no more than a quarter of Year 10 and Year 12 at any one time.
It is clear that remote education will remain the predominant mode of education for the rest of this term for all students with some on site provision supplementing this work.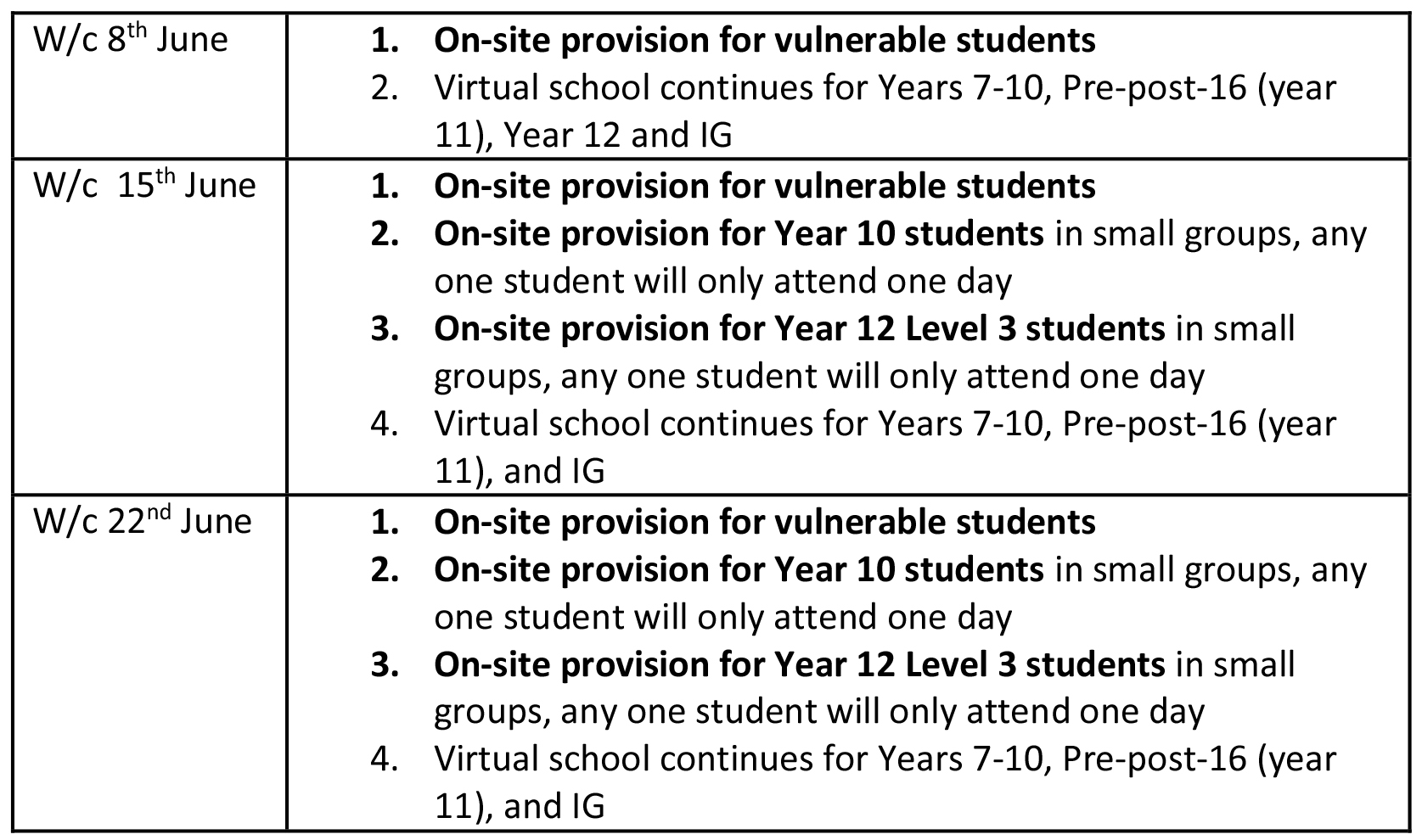 Please bear in mind, the on-site provision will not be school as normal.
Next week we shall communicate with parents of Year 10 and Year 12 students to provide you with the detail of arrangements and a survey so that parents can inform us about the attendance of their child. We will also share the changes that have taken place on site alongside staff training to ensure parents/carers have confidence in our safe provision.
Thank you for your continued support and please keep safe.
Wanda Golinska
Headteacher
---
22nd May 2020
Dear Parent/Carer,
There has been much speculation on the issue of re-opening schools from the 1st June.
As mentioned in my letter last week, we are taking careful steps to ensure we are ready to re-open partially when it is safe to do so.
We will not re-open in the week commencing 1st June. We will continue with our reduced provision for children of key workers and those children considered to be vulnerable.
Alongside this we are completing risk assessments and protocols to ensure our site and staff will be ready to receive more students. We plan to receive some Year 10 and Year 12 students from the 8th June. This means we would invite students to attend for specific activities that would be focussed on:
Student well-being
Support for students to engage with their home-learning
Introduce a recovery curriculum
And if possible, engage with some on-site lessons
All of this would happen with small numbers of students on-site, for reduced periods of time and with staggered starts. It will not be school as normal and will only happen if our Trustees agree the risk assessment and re-opening. Additionally, we will continue to check the government updates and hence, provisional plans are subject to change.
Half-term
Meanwhile, lessons in virtual school for all year groups, including all the pre-post-16 new classes, will pause over the half-term starting Monday 25th May. Students can complete work, or, catch-up, or, make good use of the break.
Virtual school, the reduced on-site provision, Year 7-9 off-line work booklets and Google Meet assemblies will resume on Monday 1st June.
I attach a letter from the Director of Children's Services and our own newsletter celebrating our work in lockdown and even capturing some pictures of the Academy site being adapted for social distancing.
Please take the opportunity to take a break from home-learning and enjoy the week safely and socially distancing.
Best wishes
Wanda Golinska
Headteacher
The Local Authority, Wandsworth Borough Council, have also written to all parents in the borough with details on how they are supporting the reopening of schools.
We have also written to Parents and Carers about Home Language examinations that students were due to sit this summer.
---
12th May 2020
Dear Parents/Carers,
I hope that you are all able to enjoy some of the recent sunshine that we have had and are looking forward to more next week.
I am sure that many of you will have heard the Government's announcement regarding schools. Those of you with primary school aged children may, very understandably, feel anxious regarding a possible return to school in June. For all of you who are parents/carers of Southfields Academy students, you may also feel anxious that it appears secondary schools may open for Year 10 and Year 12 in June and not fully reopen until September.
Most importantly, your children may also be feeling anxious and/or upset at what looks likely to be an extended period of school closure. There have certainly been tears in the households of some staff when their children realised that secondary schools would remain closed for now. However, it is vital that we, as a school and community, start to look and plan for the future.
What preparations is the school making for the future?
All of us – school staff, parents/carers and students - want schools to reopen as soon as possible but of course; this can only be done when it is judged safe enough to do so. Whilst we wait for this moment to arrive, we would like to reassure you on three fronts:
Firstly, when the time is right for secondary schools to reopen, we will be doing everything we can to make sure that this happens in as safe and secure a way as possible. The wellbeing of both our students and staff will remain paramount when further steps to reopening are taken.
Secondly, we do not intend to rush things. We are already considering options regarding how school might reopen on a partial basis with students on reduced timetables, or certain year groups in on certain days, for example, to allow as much social distancing as possible, if this remains necessary. Before we reopen, we will communicate a clear plan to parents/carers and students. This will include planning for additional pastoral support and curriculum changes if/where we feel appropriate to support our students with both their emotional and academic development.
It is crucial that all Year groups, particularly Years 7-9, engage with the work being set so that they do not get behind in their studies. Heads of Year are there to support you if you are having difficulties engaging your child in this work.
Thirdly, if we are to remain closed until the summer (for all but children of key workers and vulnerable students), we will review our current working practices and work-setting guidance. I am extremely proud of how hard our staff have worked to provide our students with the best possible learning opportunities during this time and the exceptional professional standards that they have maintained during such challenging times. I – and our staff - are also very proud of the great efforts parents and carers have made to help their children keep learning. Well done to you all!
However, if we are to continue with school closures for some weeks to come, we will look at what more we can do to help you, and your children, balance learning with long-term wellbeing. This is now very much a marathon, not a sprint. We will communicate any changes to our home-learning model with you as soon as possible. In the meantime, please remember to do what you can and keep communicating with us re any difficulties you, or your child, may be experiencing. All staff are aware of the challenges you may face and we will continue, as always, to help your children in any way that we can.
During this time, it is inevitable that young people may be spending more time online. It is worth parents/ carers monitoring this online activity closely, since this can lead to increased online gambling risks - sometimes through gaming and in-app purchases. Please see the parent section of the Academy website for more information and a useful video. We will also be posting guidance for students through the Home Learning booklet and Google Classrooms.
As we have stated in all of our correspondence with you, we know that everybody's circumstances are different, and some will be very challenging at this time.
As such, a reminder from me that we continue to run emotional support services for students remotely and are working with a number of other agencies who are helping young people with the current situation. Please contact your child's Head of Year if you feel your child may benefit from support or contact the welfare phone on 0743 779 4201.
Thank you to those of you who contacted us following our recent letter.
Ramadan
Staff are aware that some students will be fasting at present, which may be affecting their energy and concentration. Please let us know if this may be impacting on your child's ability to complete their schoolwork and we will, of course, ensure that our communication with you is sensitive to this. To those families/households taking part in Ramadan, we wish you a peaceful and reflective close to the month and hope that Eid celebrations can still be enjoyed despite current circumstances.
Again, I thank you for your continued patience and perseverance and our thoughts are with those of you who have experienced difficulties and loss through these trying times.
Regards,
Jacqueline Valin
CEO Southfields Multi-Academy Trust