Update for Parents / Carers
5th June 2020
Dear Parent/Carer,
I hope you and your family were able to take a break from virtual school over the half term and enjoy some of the better weather that we were blessed with last week.
Thank you to all parents/carers who responded to our survey. We have had over 400 responses and are preparing a FAQs document to share with you soon.
Since my last letter dated 22nd May we have received two pieces of information from the Government that will enable us to move forward. The first "Guidance for secondary provision from 15 June" was released on Monday 25th May. Secondly it was confirmed on the 28th May that the five tests that were set to enable the continued easing of the lockdown were being met.
The "Guidance for secondary provision from 15 June" now enables us to work with the staff to plan to offer some face to face support which will supplement the remote education for no more than a quarter of Year 10 and Year 12 at any one time.
It is clear that remote education will remain the predominant mode of education for the rest of this term for all students with some on site provision supplementing this work.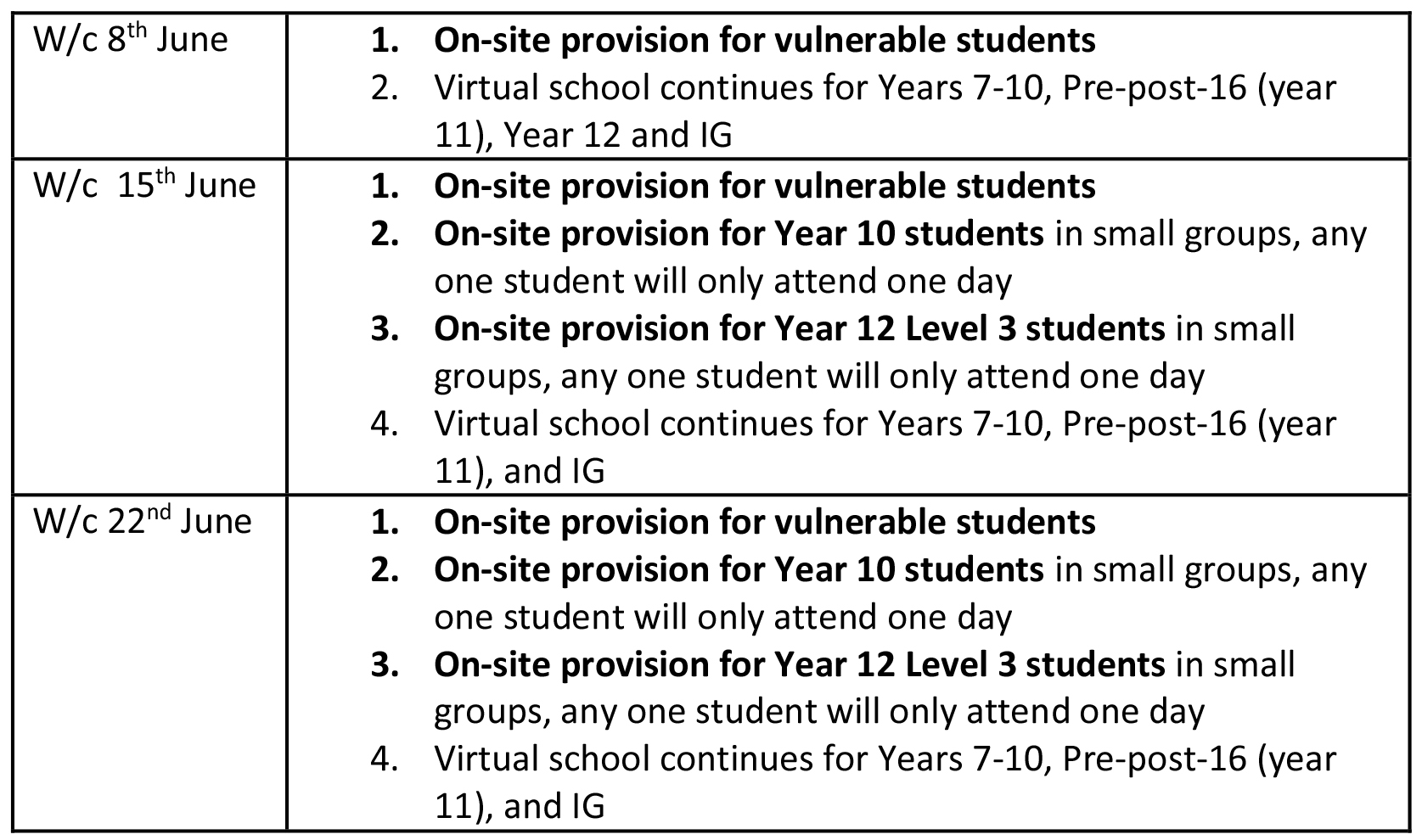 Please bear in mind, the on-site provision will not be school as normal.
Next week we shall communicate with parents of Year 10 and Year 12 students to provide you with the detail of arrangements and a survey so that parents can inform us about the attendance of their child. We will also share the changes that have taken place on site alongside staff training to ensure parents/carers have confidence in our safe provision.
Thank you for your continued support and please keep safe.
Wanda Golinska
Headteacher
---
22nd May 2020
Dear Parent/Carer,
There has been much speculation on the issue of re-opening schools from the 1st June.
As mentioned in my letter last week, we are taking careful steps to ensure we are ready to re-open partially when it is safe to do so.
We will not re-open in the week commencing 1st June. We will continue with our reduced provision for children of key workers and those children considered to be vulnerable.
Alongside this we are completing risk assessments and protocols to ensure our site and staff will be ready to receive more students. We plan to receive some Year 10 and Year 12 students from the 8th June. This means we would invite students to attend for specific activities that would be focussed on:
Student well-being
Support for students to engage with their home-learning
Introduce a recovery curriculum
And if possible, engage with some on-site lessons
All of this would happen with small numbers of students on-site, for reduced periods of time and with staggered starts. It will not be school as normal and will only happen if our Trustees agree the risk assessment and re-opening. Additionally, we will continue to check the government updates and hence, provisional plans are subject to change.
Half-term
Meanwhile, lessons in virtual school for all year groups, including all the pre-post-16 new classes, will pause over the half-term starting Monday 25th May. Students can complete work, or, catch-up, or, make good use of the break.
Virtual school, the reduced on-site provision, Year 7-9 off-line work booklets and Google Meet assemblies will resume on Monday 1st June.
I attach a letter from the Director of Children's Services and our own newsletter celebrating our work in lockdown and even capturing some pictures of the Academy site being adapted for social distancing.
Please take the opportunity to take a break from home-learning and enjoy the week safely and socially distancing.
Best wishes
Wanda Golinska
Headteacher
The Local Authority, Wandsworth Borough Council, have also written to all parents in the borough with details on how they are supporting the reopening of schools.
We have also written to Parents and Carers about Home Language examinations that students were due to sit this summer.
---
12th May 2020
Dear Parents/Carers,
I hope that you are all able to enjoy some of the recent sunshine that we have had and are looking forward to more next week.
I am sure that many of you will have heard the Government's announcement regarding schools. Those of you with primary school aged children may, very understandably, feel anxious regarding a possible return to school in June. For all of you who are parents/carers of Southfields Academy students, you may also feel anxious that it appears secondary schools may open for Year 10 and Year 12 in June and not fully reopen until September.
Most importantly, your children may also be feeling anxious and/or upset at what looks likely to be an extended period of school closure. There have certainly been tears in the households of some staff when their children realised that secondary schools would remain closed for now. However, it is vital that we, as a school and community, start to look and plan for the future.
What preparations is the school making for the future?
All of us – school staff, parents/carers and students - want schools to reopen as soon as possible but of course; this can only be done when it is judged safe enough to do so. Whilst we wait for this moment to arrive, we would like to reassure you on three fronts:
Firstly, when the time is right for secondary schools to reopen, we will be doing everything we can to make sure that this happens in as safe and secure a way as possible. The wellbeing of both our students and staff will remain paramount when further steps to reopening are taken.
Secondly, we do not intend to rush things. We are already considering options regarding how school might reopen on a partial basis with students on reduced timetables, or certain year groups in on certain days, for example, to allow as much social distancing as possible, if this remains necessary. Before we reopen, we will communicate a clear plan to parents/carers and students. This will include planning for additional pastoral support and curriculum changes if/where we feel appropriate to support our students with both their emotional and academic development.
It is crucial that all Year groups, particularly Years 7-9, engage with the work being set so that they do not get behind in their studies. Heads of Year are there to support you if you are having difficulties engaging your child in this work.
Thirdly, if we are to remain closed until the summer (for all but children of key workers and vulnerable students), we will review our current working practices and work-setting guidance. I am extremely proud of how hard our staff have worked to provide our students with the best possible learning opportunities during this time and the exceptional professional standards that they have maintained during such challenging times. I – and our staff - are also very proud of the great efforts parents and carers have made to help their children keep learning. Well done to you all!
However, if we are to continue with school closures for some weeks to come, we will look at what more we can do to help you, and your children, balance learning with long-term wellbeing. This is now very much a marathon, not a sprint. We will communicate any changes to our home-learning model with you as soon as possible. In the meantime, please remember to do what you can and keep communicating with us re any difficulties you, or your child, may be experiencing. All staff are aware of the challenges you may face and we will continue, as always, to help your children in any way that we can.
During this time, it is inevitable that young people may be spending more time online. It is worth parents/ carers monitoring this online activity closely, since this can lead to increased online gambling risks - sometimes through gaming and in-app purchases. Please see the parent section of the Academy website for more information and a useful video. We will also be posting guidance for students through the Home Learning booklet and Google Classrooms.
As we have stated in all of our correspondence with you, we know that everybody's circumstances are different, and some will be very challenging at this time.
As such, a reminder from me that we continue to run emotional support services for students remotely and are working with a number of other agencies who are helping young people with the current situation. Please contact your child's Head of Year if you feel your child may benefit from support or contact the welfare phone on 0743 779 4201.
Thank you to those of you who contacted us following our recent letter.
Ramadan
Staff are aware that some students will be fasting at present, which may be affecting their energy and concentration. Please let us know if this may be impacting on your child's ability to complete their schoolwork and we will, of course, ensure that our communication with you is sensitive to this. To those families/households taking part in Ramadan, we wish you a peaceful and reflective close to the month and hope that Eid celebrations can still be enjoyed despite current circumstances.
Again, I thank you for your continued patience and perseverance and our thoughts are with those of you who have experienced difficulties and loss through these trying times.
Regards,
Jacqueline Valin
CEO Southfields Multi-Academy Trust