Update for Parents / Carers
4th May 2021
---
21st April 2021
---
31st March 2021
Dear Parents/Carers
As we come to the end of the spring term, it feels as if all members of the community need a
break to refuel ready to commence the final part of the academic year.
It has been a real pleasure to see the return of students to school and it is clear that spending time with friends has boosted morale for so many students. Understandably, there is a sense of excitement and some temporary relief from what is going on elsewhere. This is much needed. Students and
staff, alike, yearn for that sense of normality and I hope that the summer term will bring with it familiar order and certainty in a calm way.
Expectations
In order to achieve an orderly return to familiar routines, we would like to re-establish those high expectations that make students feel proud and focussed, ready to proceed with their academic study. Please take a moment to read through these expectations with your child:
Student Expectations of High Standards
Take responsibility for keeping yourself and others safe; on the way to school, in school and on your way home.
At school take every opportunity to learn; in your lessons, from your teachers, tutors and peers.
Always take responsibility for your actions. Find opportunity for acts of kindness and equally be prepared to make reparations when you have erred.
Code of Conduct
Follow all instructions.
Treat everybody with respect.
Keep hands and feet to yourself.
Covid-Adapted Rules
Wear your face covering in all indoor areas, including classrooms as well as corridors and dining spaces*.
Move swiftly through the one way systems in corridors, stairwells, dining spaces and in outdoor channels. Do not gather in groups or wait for friends after lessons.
Wash your hands frequently with soap and water or sanitise at every entry point: at the gate, coming indoors and entering classrooms.
Covid-Related Protocols
Face Coverings
Next term we continue with Covid related protocols.
*On reopening the Academy from 8th March, DfE guidance stated we should be wearing face coverings in classrooms as well as in all other indoor areas. We were told that this requirement would be reviewed at the Easter break. The most recent communication from the DfE signals no change to this at present hence, we will continue with wearing masks in classrooms until further notice.
Timetable
The same timetable of staggered starts and finishes resumes after the Easter break. When not in lessons or in the dining hall, students will remain in their outdoor zones.
Contact Tracing Over the Easter Holidays
We are required to continue contact tracing for the first part of the Easter holidays. If your child develops symptoms on Thursday 31st March or Friday 1st April and a test shows they are positive, please let us know by calling our welfare line on 07437 794 201 (Larry Davis) or 07379 862 150 (Sara Sharpe). This will enable us to trace other students with whom your child has had close contact.
Contact tracing Next Term
We are required to trace the contacts of anyone who has tested positive within the Academy community. Those identified will be required to self-isolate for 10 days after the period of contact. Whilst the Academy is open we are unable to run a parallel virtual school, however work will continue to be set on Google Classrooms and teachers will share their lesson resources on these platforms for students to access. Further information about contact tracing can be found here https://bit.ly/3dosL5o
Lateral Flow Testing at Home
The Local Authority has asked me to pass on the following regarding testing, which is key to keeping our community safe and the Academy open:
Following the success of the asymptomatic testing programme on the return to school, it is vital to keep testing at home throughout the Easter holidays and into the summer term.
• test twice a week at home from now on (all those who are able to)
• report results online as positive, negative or void. This information is critical in helping us to understand the prevalence of the virus across the country
• continue to test twice weekly over the Easter holidays
• test before returning to school or college for the summer term, either the night before, or morning of, the first day back, to find and isolate any positive cases.
Families and households can also access home test kits for adults.
If your child receives a positive result, please do not send them into school but keep them at home to isolate for 10 days, inform us in the usual way and arrange a PCR test. If your child has symptoms, even with a negative Lateral Flow Test, they should self-isolate at home and take a PCR test.
To support you with this process, we will email you twice each week to remind you to test your child.
A Return to High Standards in Uniform
When we return, the expectation will be that students will be in smart and correct uniform, as detailed below. We understand that it has been difficult to renew uniform while the shops have been closed so we have been flexible about uniform for the past three weeks. With shops re-opening soon, please take the opportunity to update your child's uniform, if required, before they return to school after the Easter break. Our uniform expectations can be found in our uniform guide https://parents.southfieldsacademy.com/page/?title=Uniform&pid=39
If you need to purchase uniform items, there is information on the website uniform page on how to do this. Please note our supplier will be increasing prices from Monday 5th April 2021. Other items will be available to purchase elsewhere once shops re-open from 12th April.
Uniform Expectations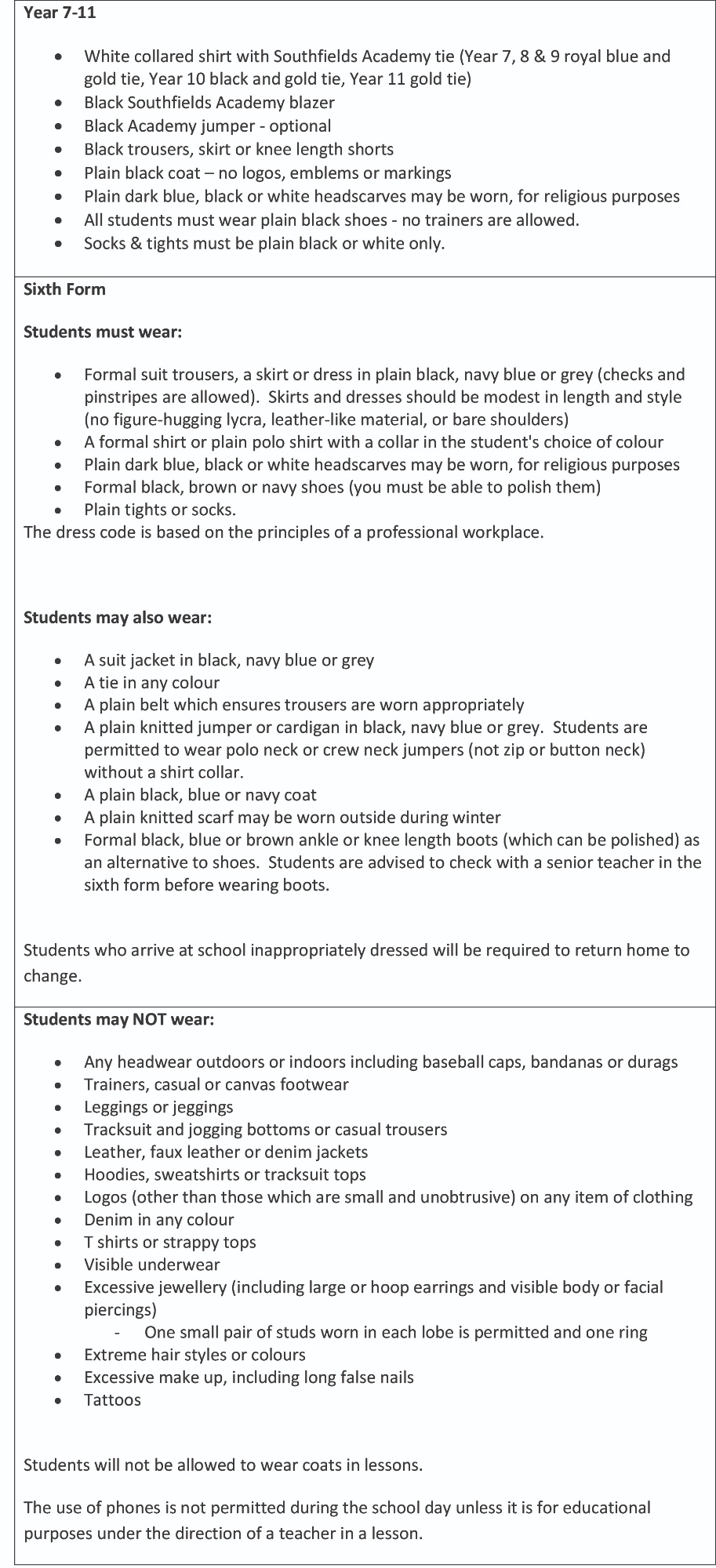 Upcoming Dates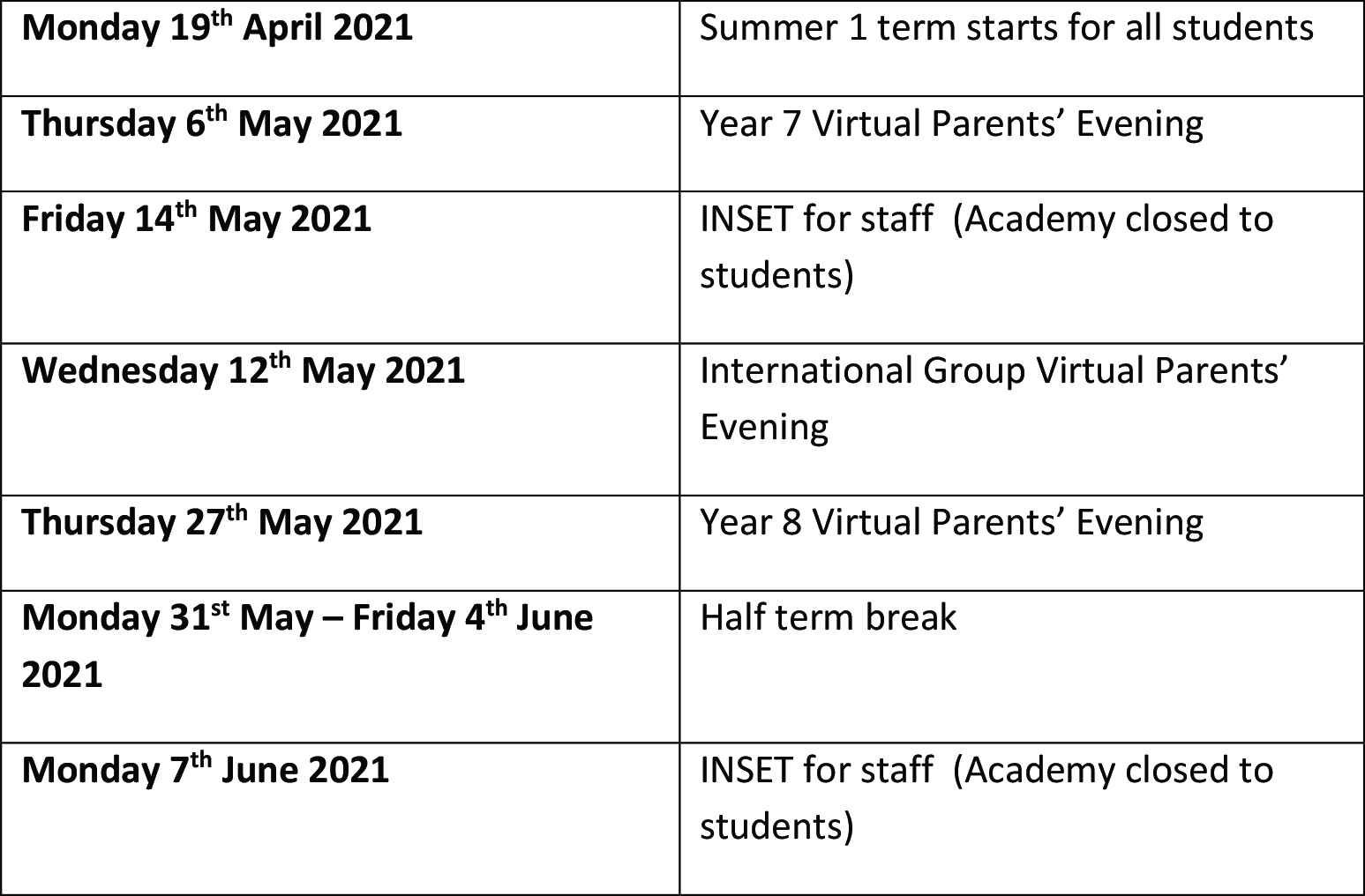 We await further information regarding the dates our Year 11 and Year 13 students will finish in the summer term and will advise parents of this when this is received.
May I take this opportunity to thank you again for your support throughout this term and I wish you and your family a safe, relaxing and refreshing Easter break.
Yours sincerely
Wanda Golinska, Headteacher
---
24th March 2021
Ms Tracy Gray has written to parents of students scheduled to complete qualifications this summer. Click below to read her letter.
19th March 2021
Dear Parents/Carers
It has been a great pleasure to see the vast majority of our students back at the Academy this week. They have quickly adapted to being in the classroom again and are clearly enjoying reconnecting
with the routines of school and their peers.
Arrangements for third and final covid tests in school – and distribution of testing kits
Our testing programme has continued and we will send testing kits home with students when they have had their third and final test at school.
Below is the schedule for the remaining Lateral Flow tests to be carried out next week.
Testing will not be available at school after these tests have been completed. If your child has any symptoms, please keep them at home.

It is important for students to undergo a test twice weekly to keep your family and our community safe. Students are well equipped to manage testing at home, not only because they have been testing themselves at school but because they have also had a science lesson which focused on how to test at home using the kits.
There are full instructions inside the kit but if your child requires further support, this video explains how to test at home https://www.youtube.com/watch?v=S9XR8RZxKNo
Please note the home testing kits are for students only. Families of students are encouraged to test as well but should arrange a test via:
If your child is absent on their year group's distribution day, they can pick up a testing kit from their tutor until Friday 26th March.
INSET Day
The final day for students this term will be Wednesday 31st March as the following day is an INSET day for staff only.
Wishing you and your family a restful weekend.
Yours sincerely
Wanda Golinska, Headteacher
---
12th March 2021
Dear Parent/Carer,
Welcome back
It has been an enormous pleasure to welcome back your children this week. Although a few felt a
little nervous it does appear that a return to the community feels very familiar, very quickly.
As the current virtual school arrangements come to an end, we should pause to reflect on your successes – children and parents alike:
Accelerated progress in the development of digital literacy skills
A level of resilience that has enabled more than survival, but indeed growth in the time of a world
pandemic and national lockdown
Increased independence – students have been driven to take responsibility for their own learning, made possible through the necessity to engage in virtual school
Please do not be swayed by media chatter about 'catch-up' or knowledge deficits. We would prefer
to celebrate the achievements of our students and applaud you for what you have managed at
home in the most challenging circumstances.
Well done and thank you.
Testing and protocols
Thanks also for all your co-operation with regard to consent for testing. This week we have administered nearly 1,500 tests with about 98% parental consent. This makes a considerable contribution to safety on-site. Attached are the arrangements for the second and third tests.
Students have been told that most of the autumn term arrangements remain in place. Additionally there are further enhanced safety measures to contribute to a reduction in risk of catching the virus:
4 additional safety measures
Testing 2 x a week
Wearing face masks in classrooms (as well as in all indoor areas)
Eat & Go – canteen seating facing one way only, cannot stay seated after finished eating – please move
on to outdoor zones
Constant movement in corridor/stairwell one way systems – do not congregate, do not wait for friends in corridors
Please remember that the opening of schools has to be a success if the rest of the country is to be released from lockdown.
I look forward to our on-going partnership in achieving the best for your child. Please enjoy a safe
and relaxing weekend.
Yours sincerely.
Wanda Golinska, Headteacher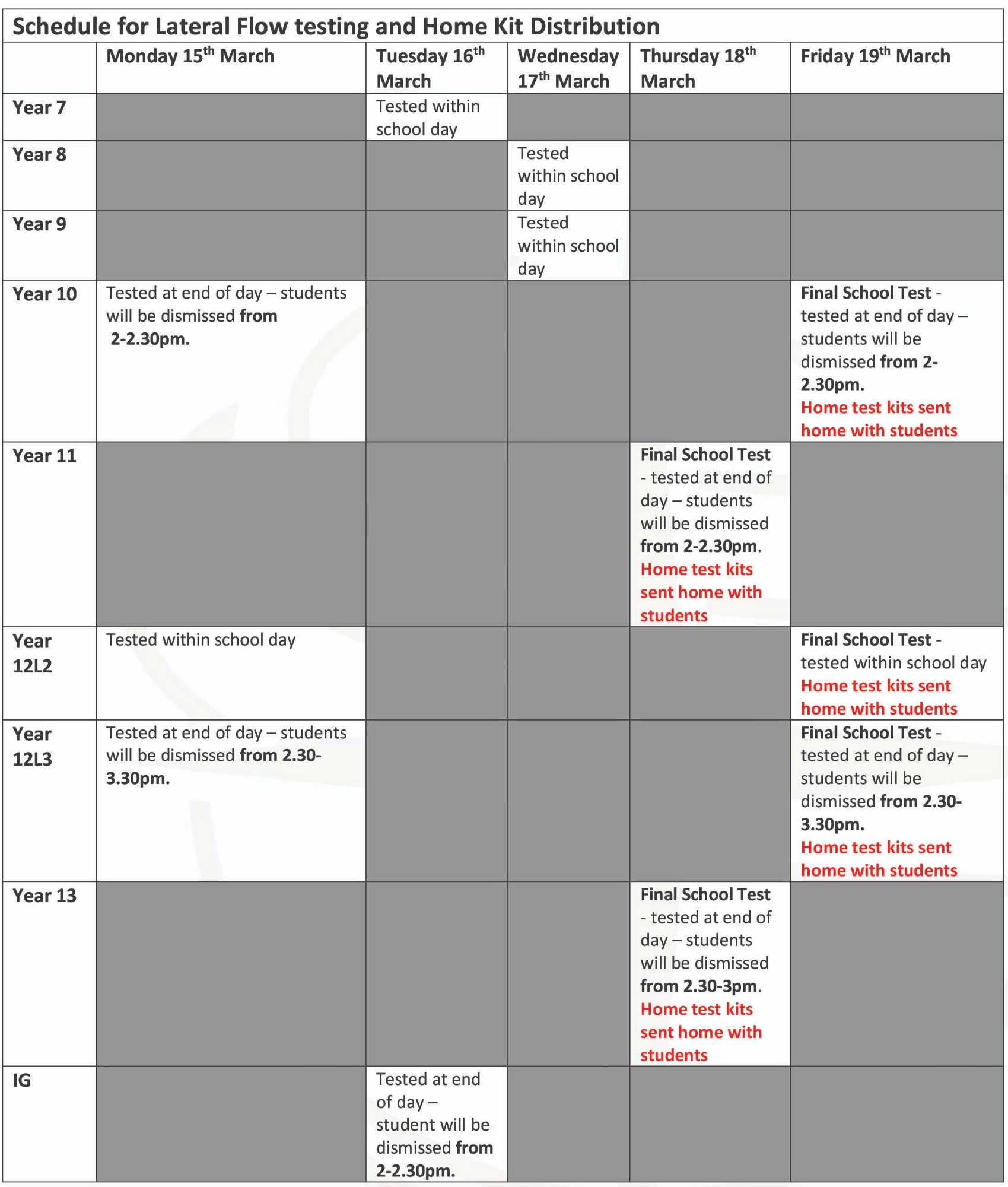 ---
5th March 2021
Dear Parents & Carers,
Following on from communications this week about students' return for testing from Monday 8th March - we are posting the schedule to show the times that each tutor group should arrive at the
back gate (not the usual end but at the opposite corner next to Peabody Estate). Students need to
arrive at the specified time please. Only students who have consent should attend on this day.
After the test students will go directly home.
The timings on the website are an exact match for the timings communicated by tutors or Heads
of Year - these are not new timings.
Thank you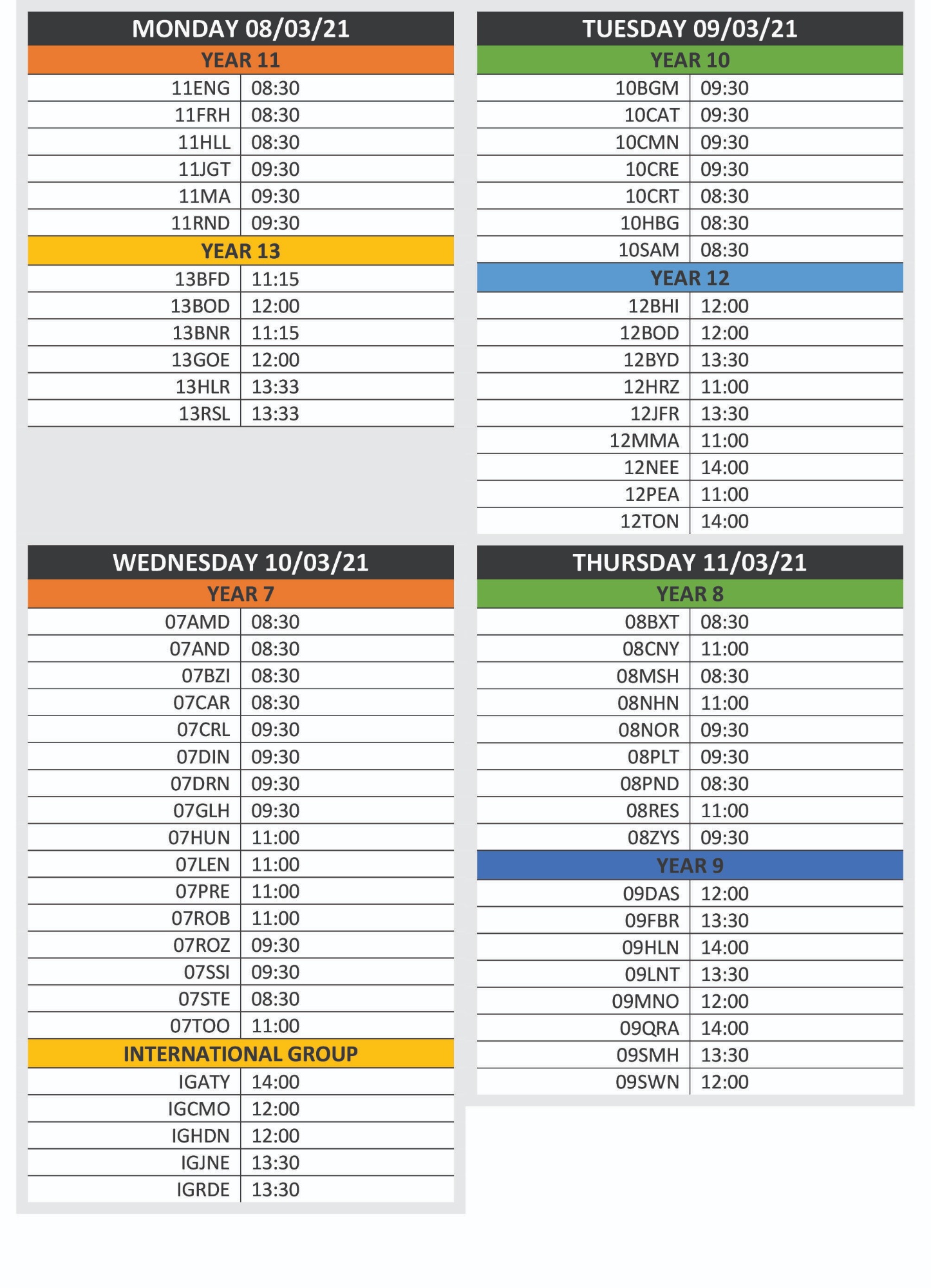 2nd March 2021
Dear Parents/Carers
We have made plans to bring all students back from the 8th March 2021. Given that we are required
to secure a negative test for returning students and staff, we have mapped out the mass testing programme so that we can perform the three tests required for all students before students are expected to test at home.
The week of the 8th March will be a blended provision for our students: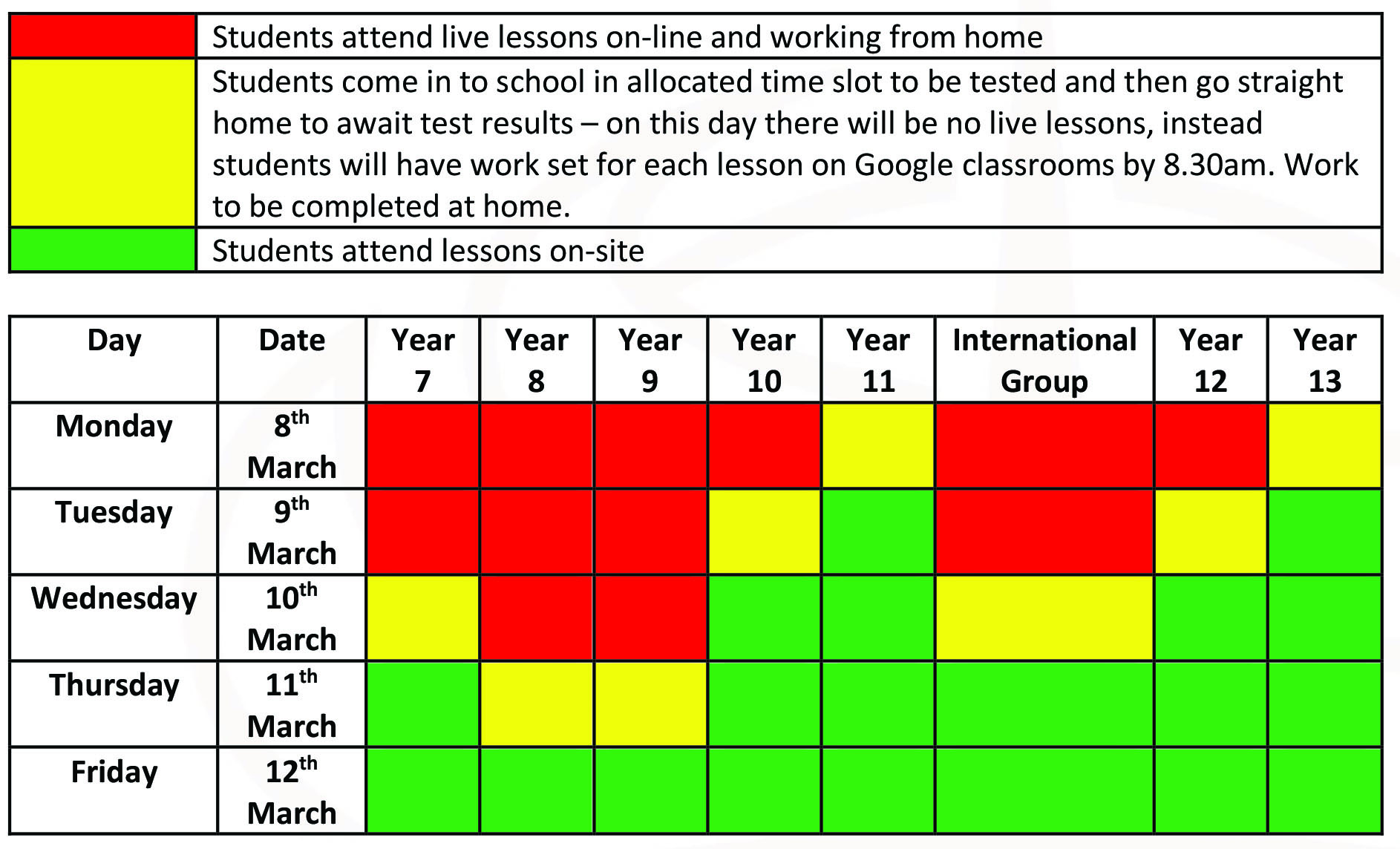 First Asymptomatic Testing day
Students will be given a specific time slot to arrive at the middle park gate on the day. The time
slot will be communicated by the Head of Year on their year group Google Classroom.
Students should only come on this day at the specified time if parents have completed the consent form. Students who are 16 years or older can give consent themselves and will not require parental consent.
Students should wear school uniform.
Senior staff will greet the students and explain the procedures for testing. Once the students have been tested they will be sent home to await the test result and complete the work set on Google Classrooms. Please assume a negative test result unless the school has made contact with you
about a positive result for your child. If your child tests positive they will be required to isolate at home for 10 days. http://bit.ly/STAYHOMEGUIDANCE
Day after testing day
Students who receive a negative test result will be expected to attend lessons on-site the following day according to the same timetable as they followed in the autumn term. All students in that Year group should attend as normal on that day. Once the Year group commence lessons on-site there
will be no further live lessons on-line. Virtual school will close.
The second and third tests will take place from 12th March until 24th March. Students will be taken
out of lessons during the school day to complete these tests. They will be sent home after a test to await results and so we intend to do these tests close to the end of a school day to minimise any further lesson disruption.
Protocols on return
Students should not attend school at any time if they feel unwell or exhibit any of the covid symptoms described here https://www.nhs.uk/conditions/coronavirus-covid-19/symptoms/
We will maintain our autumn term safety measures and protocols as a minimum and then introduce the students to enhanced measures:
Students and staff will need to wear face masks in lessons as well as in any other indoor areas. Students should have possession of three masks to ensure a clean change between travel to and from school and throughout the school day.
In addition to using our oneway systems, students will have reduced time in the canteen and seating will
be arranged so that students cannot face each other. Whilst the weather can still be a bit colder students should have appropriate school jackets/coats as we will continue to spend break times in outdoor zones. Students should not congregate in corridors or any constricted spaces.
Frequent hand washing and sanitising at every entry point will be required.
Students will need to continue with their 'Year group bubbles'. This means they should not be mixing with others outside their bubble.
Once we have completed the first three Covid tests on site, students and staff will need to conduct the tests themselves, at home, twice weekly. Negative test results should help to minimise risk of spreading the virus whilst at school.
I hope this provides parents with enough information to make plans for next week. I aim to stream
a video recording demonstrating the above information with a bit more detail on Thursday during afternoon registration for students and parents to watch.
Free School Meals
If your financial circumstances have changed recently and you believe your child may now be eligible for Free School Meals, please contact sara.crampsie@southfieldsacademy.com to obtain the application form.
We have so valued your support throughout this pandemic and ask that you continue to support us
as we enter another challenging phase. The eyes of the nation are upon us and we have to do everything to succeed safely. If we work together we can not only keep our students safe but will
be doing our part in bringing the current situation to a close.
Yours sincerely
Wanda Golinska, Headteacher
---
26th February 2021
Dear Parents/Carers
I hope you and your child had a good half term break and your family managed to spend time away from screens and the pressures of on-line learning. I also hope you and your family remain in good health.
Re-opening and Testing
Following this week's announcements by the Prime Minister, we are rapidly making plans to enable a swift return to lessons on site. The exercise in mass testing of all students presents a logistical challenge but we will ensure that we do everything to enable all returning students to be tested three times in school with the required gaps in testing, as per guidance.
Please assist us with this by completing the consent form, preferably by the end of today, so that we can allay any concerns about members of our community being amongst some who do not take part and hence, do not receive a negative test.
Schools are leading the way out of this lockdown and we must all do everything we can to make this a success. I sent a letter to you earlier this week about testing which you can find here. In it you will find information and a contact for any questions that remain.
Draft plans (subject to change) to bring students back on site
Week commencing 1st March 2021

Vulnerable groups and children of key workers continue with on-site provision throughout Monday to Thursday only.
All other students continue with virtual live lessons at home throughout Monday to Thursday only.
Friday 5th March – no students on-site.

No live lessons but all students will be set work for the day on their Google Classrooms by 8.30am.
Staff return to the site in order to prepare their classrooms, resources and plan for lessons onsite.
Preparations for mass testing and training of staff.

Week commencing 8th March 2021

Mass testing begins and continues until Tuesday 23rd March (to incorporate the first three tests we are required to administer at school). From Wednesday 24th March, the school should be issuing home testing kits to all students.
A week of blended learning for students. Students will either:

a) Attend the school site only for their first test, or,

b) Work at home attending on-line live GM lessons, or,

c) Attend the school site, after a negative test, to attend live lessons on-site

Friday 12th March – all students should be back on-site attending lessons and the rota for second and third tests will commence throughout the school day and continue until Tuesday 23rd March.

Week commencing 15th March 2021

All students should be attending school.

Timetable arrangements will be the same as they were in the autumn term. This means staggered starts and ends to the school day – the school day arrangements can be seen here.
Testing of all students continues and takes place during the school day.
NB: Once we return to lessons on-site there will no longer be any virtual lessons taking place. All students will be required to attend on site.
Clinically Extremely Vulnerable (CEV) Students & Shielding
Parents of students who have been identified as CEV and who have received a letter from the NHS, their clinician or GP to advise them to shield, should send a copy of this letter to natalie.stearn@southfieldsacademy.com so that the appropriate attendance mark can be given. Any parent who believes their child should be shielding but who has not received a letter should contact their GP.
Uniform
Please support your child with the usual school preparations around uniform and equipment. If you need to order new uniform please read our guide here. You will have the option to have your order delivered or to collect it from the Academy.
Additionally, there will be some further enhanced safety measures (as well as regular testing) as the guidance now requires all of us to wear face masks indoors. This means students will have to wear masks in lessons as well as in corridors and other communal indoor areas. We will continue to spend time outdoors when not in lessons and although we are coming into spring please ensure your child has appropriate layers and a warm coat. Next week, and on return, we shall republish our safety measures and regulations.
Summer Examinations
Yesterday further announcements were made by the DfE regarding examination classes this summer. Examinations remain cancelled and students completing GCSE, A levels and other vocational qualifications will be awarded grades by teachers. There is guidance around this procedure that we must check closely to ensure we follow expected activity. When we have more detail we will be sharing this with the appropriate student and parent groups. Meanwhile, you can read information from Ofqual here which summarises the changes.
Parent Remote Learning Survey
Thank you to parents who provided feedback and took the time to complete the Remote Learning Survey. I am very grateful for this.
You were very positive in your assessment of your children's experience of online learning, and of how you have found supporting them. You were also overwhelmingly positive in your judgement of your child's experience of learning in this lockdown compared to the last. You were also pleased with the type of feedback your children have been receiving on their work in the Google Classroom, and particularly noted the benefits of live interactions between staff and students, class discussion and the use of Break Out rooms as useful experiences and strategies.
You also raised points such as the pace of lessons and the importance of checking understanding, and how it works when your children are completing independent work. You also pointed out some subjects where the learning has felt less successful.
In light of this, we will be sharing this with the relevant departments so they can further discuss successful strategies they can use remotely for what we hope is the last phase of remote learning. You also raised the benefits of teacher interaction, so we are requesting that our staff record their remote lessons from Monday 1st- Friday 12th March. This will enable staff and students to have 1:1 conversations at the end of lessons where needed or participate in sessions such as careers interviews. These recordings will only be accessed by the safeguarding lead in the case of any reported safeguarding incidents. These recordings will be stored safely, and deleted at the end of the academic year. Any further queries on this aspect please contact google@southfieldsacademy.com
Next week I hope to present a video stream giving some of the detail surrounding the arrangements for the next few weeks alongside a further written communication outlining the detail of when each student will need to arrive for their first test.
Thank you for your invaluable and on-going support.
Yours sincerely
Wanda Golinska, Headteacher
---
23rd February 2021
Dear Parent/Carer
I hope you and your family had a restful half term break.
Following the Prime Minister's announcement on Monday, we are planning to bring students back
on site during the week beginning 8th March. In order to ensure the safety of all students and
staff, we are required to follow the Government's mass-testing programme in schools. The
guidance states that we will need to test all students three times before a full return to ensure
that we comply with this critical safety measure to keep our school community safe.
To ensure we are ready to undertake testing we are asking you now to provide your consent for:
Testing to take place, and
For us to submit some of your contact details (first line of address, postcode and mobile telephone
number) to the DfE LFD Testing Service. Please note, we will not be submitting this data until we are
told by the DfE to do so.
The consent form can be found via this link: https://forms.gle/mRCq3oEysjFPzCTE9
Please support us in this endeavour by completing the consent form by return or by the 26th
February at the latest so that we can finalise the on-site return plans and share them with
parents and carers.
Once this form has been received we will be able to test your child prior to any face-to-face
lessons. Further consent forms will not need to be completed if subsequent testing is required.
The 'lateral flow' tests are quick and easy using a swab from the students' noses and throats.
The NHS have provided information about this type of testing:
CLICK HERE TO READ AND DOWNLOAD NHS LETTER RE LATERAL FLOW TESTS
CLICK HERE TO READ AND DOWNLOAD NHS LATERAL FLOW TEST "HOW TO"
The test will carried out by students on themselves but will be supervised by trained staff. We
have successfully carried out more than 1,000 tests on students and staff to date.
The results will be ready half an hour after the test takes place. If negative, your child will be able
to attend school. If the test is positive, we will make contact with you and send your child home to isolate for 10 days. Once your child has arrived home you should arrange for a full PCR Covid test. Once registration and recording of your child's test has been completed you will receive a text
message from the NHS confirming their test result.
Once again, I would encourage all parents to submit the consent form as soon as possible to
support us with our aim of all students returning to classroom-based teaching as quickly and
safely as possible after reopening. We will not be able to provide remote teaching once the
Academy reopens. Should there be any Covid outbreak in the Academy community, those who have tested negative will be able to remain on-site and continue lessons as usual.
If you have any questions about the testing programme at the Academy, please contact testing@southfieldsacademy.com
Thank you for your co-operation and support for the safety of students and staff in school.
Yours sincerely
David Holt, Deputy Headteacher – Covid Testing Lead
---
12th February 2021
Dear Parent/Carer
I must first begin by acknowledging how much has been achieved during the past six weeks that we have been in lockdown. It has been inspiring to see how, as a community of staff, students and parents/carers, we have all come together to ensure that the main priority, our students, have received the best possible education and been given outstanding support as they have adapted to their new mode of education and life in general. Your role in this has been essential for success and we know it has not been an easy achievement.
Parent/Student Survey
Thank you for the many responses to our survey which was communicated to you on Tuesday 2nd February. We are collating these and will use your invaluable feedback to improve and inform our remote provision for the coming weeks.
Date for Opening of Schools
Although there is currently much in the media about schools reopening on 8th March, this remains an aspiration of the Government and has not been officially confirmed. The Prime Minister has said that he will give further information about when and how schools will reopen during the week beginning 22nd February. We will communicate how we will reopen to you as soon as we know more.
Testing of Students
As we await official confirmation of the next steps regarding reopening, we are already making preparations and putting additional safety measures in place to ensure the safety of all students and staff. During the week commencing 22nd February you will be sent a letter from the Academy requesting consent for your child to be tested so that we can get as many students back into school as possible once the Academy reopens.
Forthcoming Events for Next Half Term
Fortnight commencing Monday 22nd February

Year 11 interviews for 6th Form

Thursday 25th February

Year 12 Virtual Parents' Evening

Year 12 parents/carer, please click here for further details

Week commencing Monday

1st March

Year 9 Options Week – virtual activities and events

Thursday 4th March

Virtual Year 9 Parents' Options Fayre

Thursday 18th March

Year 9 Virtual Parents'/Options Evening

Thursday 25th March

Year 10 Virtual Parents' Evening

Wednesday 31st March

Year 11 Virtual Parents' Evening – preparing students for progression
Southfields Spirit
This week's edition of our parental newsletter may be found here. Please read this to join with us in celebrating the work of our students.
Once again, thank you for all your work in partnership with teachers to enable home-schooling for your child. Although we recognise this is not the preferred model of education, there isn't any more that you could have done to support this. We value this support and have an appreciation of the challenges that you have faced. Most importantly, we applaud you as parents for what you have done to help your child engage with remote learning alongside your other responsibilities.
Please try to take the opportunity to have some quality family time without too much intrusion of IT, from school at least.
Yours sincerely
Wanda Golinska, Headteacher
---
---
29th January 2021
Dear Parents/Carers
It has been another busy week in the Virtual School with hundreds of activities undertaken, live lessons held and work completed. During all of this we have however, taken time to pause and reflect on the very sobering news this week regarding the number of deaths due to Covid. We recognise that many of you in our community have been directly affected by this and there are others who are facing challenges which have arisen as a result of the pandemic. We are thinking of you all during this very challenging time.
Expansion of Virtual Provision
Last night we held our first virtual Parents' Evening and thus far, the reports have been overwhelmingly positive. Apart from a few anticipated glitches, everything ran smoothly and teachers were able to share information and guidance to support our Year 13 students and their parents. We are intending to expand this provision to other year groups so it would be very helpful if any Year 13 parents/carers could give feedback on their experience by taking a short survey which can be found here https://forms.gle/6b9Q9oUZ5HMhihVJ9
Other Planned Events
We look forward to meeting with parents of Year 12 students in the same way, virtually, on Thursday 25th February at Year 12 Parents' Evening.
After half term we will proceed with our options process for our Year 9 students. There will be a number of different opportunities for Year 9 students to explore career pathways and consider GCSE subjects before making their final choices by the end of the spring term. Details and dates for parents' meetings will be published at the end of this half term.
We are also holding interviews for Year 11 students hoping to progress to our 6th Form in September. These will take place straight after the half term break and both students, and their parents, will receive individualised invitations.
INSET Day on Monday
A reminder that it is an INSET day on Monday. No new work will be set by teachers, apart from catch up tasks, and we would encourage parents to support their child with having as much time as possible away from their screen. There will be no provision for students currently attending the Academy in person so these students should remain at home.
Examination Students
The Department for Education have opened a consultation on their proposals for replacement grades in place of examinations this summer. This consultation closes today and soon they should publish guidance for schools. In turn, we will communicate with students and parents as soon as we have this knowledge.
School Reopening Plans
You will be aware that the Prime Minister said this week that the earliest date schools will reopen is Monday 8th March but that this is subject to change. We will keep you updated with any new information regarding this as and when we receive it from the DfE.
Thank you for your on-going support and please have a safe weekend.
Yours faithfully
Wanda Golinska, Headteacher
---
22nd January 2021
Dear Parents/Carers
As we reach the end of week three of home learning, I once again would like to commend all of our students for the effort they are making and the resilience they are displaying as they complete their work. I am also most grateful to parents and carers for the support they are giving to students. Without this, our remote provision could not have been as successful as it has been so far.
We are mindful that it is not always easy to give this support and that the virtual school itself is not without flaws. As we progress through the weeks and receive feedback from you about how it is working for your children, we are learning much about where improvements could be made.
We monitor student engagement with their lessons closely and the feedback on this is available to parents via the My Child at School app. In some cases you may see that your child has received a negative log for non-attendance to a lesson but you know the reason they haven't been able to log on to the lesson is because of issues with a device, the internet at home or some other difficulty. If this is the case, please get in touch with your child's Head of Year so that we can work together to enable your child to participate fully in the remote provision.
Remote Education Provision
This week we have published our Remote Education Provision document. This is a guide to what you and your child can expect from the Virtual School. To access it, please use this link or you can find it on the website.
Southfields Spirit
While most students may be away from the Academy, they are still producing excellent work. Please take a moment to read Southfields Spirit, our newsletter to parents, where we celebrate this. In it you will also find useful information and activities for your child.
Free School Meals
The Free School Meal voucher scheme has been activated this week. Parents whose child is in receipt of Free School Meals will be receiving £15.00 per week per student in vouchers. These will be issued fortnightly, to cover a week in arrears and a week in advance, i.e. parents will be receiving £30.00 every two weeks.
Please see attached link below with instructions on how to redeem your voucher.
https://www.edenred.co.uk/Documents/Select/Edenred-Select-Grocery-eCode-Redemption-Userguide.pdf
It is EXTREMELY IMPORTANT that the Academy has your current email address as this is where the eCode will be sent for you to redeem your voucher. Your email address is also critical to our virtual Parents' Evening events as well as those much needed regular communications, particularly in this lockdown period. If you wish to update the email address we hold for you, please email sara.crampsie@southfieldsacademy.com
INSET Day
On Monday 1st February we will have an INSET day for staff. Students will not be set any new work for the day; instead they should aim to complete any catch-up work and try to stay away from their screen. There will also be no provision for students currently attending on-site on this day.
With best wishes to you and your family a restful and safe weekend.
Yours sincerely
Wanda Golinska, Headteacher
---
15th January 2021
Dear Parent/Carer,
I hope that you and your family have managed to keep well under these latest restrictions and in these most testing of recent weeks.
As we reach the end of the second week of the spring term, students and staff have now been working in our Virtual school for eight days. Student engagement has improved exponentially compared with the March lockdown. This is great news and I thank the children and their parents for launching themselves into this alternative form of education.
We do not underestimate the challenges that parents/carers and our students are currently facing at home and hope that you continue to communicate with us regarding any support that we may be able to source. You will find much information about possible support links in our re-launched Southfields Spirit newsletter which you can access
Virtual School – Remote teaching and learning
In this first fortnight of the spring term we have received much spontaneous, positive feedback from parents and students, but we recognise that there are numerous tweaks we still need to make to ensure an optimal provision. We will be surveying both students and parents in the coming weeks once the provision settles as these last eight days are not yet typical. The intention was always to kick off with as many live lessons as possible in order to secure engagement. At the same time we recognise that constant live lessons are not sustainable from the point of view of teaching and student learning on the receiving end. Following the research available, we will be aiming to achieve best practice of a mix of experiences, approximately 50% live lessons and 50% live registration to lesson, followed by set work with the teacher being available in the virtual classroom to help students.
We are mindful of 'screen fatigue' and would like to ensure that students and teachers have appropriate breaks from the screen regularly throughout the day. Students must look away from screens at least once every 20 minutes. We will be posting the next steps in guidance to students and parents once we complete our surveys.
Calendar events
Year 11 Parents' evening was scheduled for Thursday 21st January. This event is cancelled. Instead parents/carers will receive a report reflecting student mock grades, recent efforts, forecast grades and a reflection activity for Year 11 students.
We will be holding a virtual parents' evening for parents of Year 11 students, likely to be in the second half of this term. We will then cover any guidance on GCSE grading, which we are still awaiting, and will enable progression discussions for your child.
Year 13 Parents' evening is scheduled for Thursday 28th January. We intend to offer a virtual parents' evening on that day. Details will be communicated nearer the time.
INSET Day Monday 1st February – We will have training for staff on this day and hence virtual school lessons will be suspended for the day.
Year 9 Options Process & Parents' Evening – We have delayed the planned options activities for Year 9 students and parents. These were due to take place in January and February. Instead, they will take place between the February half-term and the Easter break. Again, details will be communicated nearer the time.
We will keep parents informed about events planned to take place after the half-term break.
Examination classes
We have students across Years 11, 12, 13 and those in our International Group who were due to take examinations this summer. Following the announcement of the cancellation of these examinations last week we are still awaiting further guidance related to the system that will replace the examinations. We know that teachers will be asked to award grades based on our assessment of student knowledge and skills. It is vitally important that students engage and make every effort to learn throughout the period of remote teaching. All work accomplished in virtual school will contribute to teacher assessment.
As soon as we have further information from the DfE we will pass this on to students and parents.
Free School Meals
We have been waiting for details of the Free School Meals voucher scheme from the Department for Education and have now been told that these will be distributed starting next week. Parents of children who qualify for these will be notified and vouchers will be sent out fortnightly, as they were during the lockdown in March last year. You will receive a separate voucher for each of your children. Please ensure that we have your up to date email address as incorrect information will mean there will be a delay in vouchers being distributed.
Please be sure to pass on our praise to your child at the end of an on-line week of engagement in lessons; not forgetting the support that you provide to help with home schooling.
Have a restful and safe weekend.
Yours sincerely
Wanda Golinska, Headteacher
---
8th January 2021
Dear Parents and Carers,
Virtual School
As we end what has been an even more challenging week than usual for everyone, I wanted to write to express my gratitude to you and your children for your patience and forbearance during the many changes that have taken place during recent days.
The effort and engagement that we have seen from students since we relaunched the virtual school has been truly impressive. We have been delighted with the supportive behaviour displayed by students and also their mature and responsible approach to their work. You should be very proud of your children for this.
We aim to continue to improve the virtual school so please do send any feedback to Google@southfieldsacademy.com
Monitoring Your Child's Progress
Parents are encouraged to regularly check the My Child at School app. On this you can access information about your child's engagement, attendance to lessons and effort in those lessons. If you need any assistance with the app, please refer to the My Child At School page of this website by clicking here.
Local Authority Winter Grant
Wandsworth has grants available to Wandsworth residents to assist those experiencing difficulties with some bills and other financial commitments. Please visit https://www.wandsworth.gov.uk/housing/benefits-and-support/discretionary-support-grants/ for further information.
While on-line learning has been very fruitful, we recognise that this has been because of the amount of effort put in by students and staff. We wish you and your family a restful and safe weekend.
Yours sincerely,
Wanda Golinksa, Headteacher
---
5th January 2021
Dear Parent/Carer,
Arrangements and requirements for Academy provisions January 2021
There will be many new items of information due to the new national lockdown restrictions announced last night by the Prime Minister.
Although our plans and arrangements have changed we will keep you updated as provision develops and information becomes available.
From Wednesday 6th January 2021 the academy will only be open for a reduced provision to vulnerable children and children of critical workers. All other students across all Year groups will commence virtual school at home by accessing our on-line learning. Please go to the appropriate links in the table below to access the detail about each provision.
Summer examinations
It was announced last night by the Prime Minister that GCSE and A level exams will not take place this summer in the normal way. We will, in due course, be receiving further details about what will replace these examinations, but it seems reasonable to expect students to receive grades based on a similar system to 2020. This involved teachers assessing student performance using class and homework, coursework, mock exam results and other evidence.
In light of this information please convey this message to your children if they were due to finish their courses at the end of this year:
Your hard work will still be recognised. None of the effort you have shown so far, and will continue to show in the coming months, will be wasted. On the contrary, the new system will make sure this is fully reflected in your final grade.
Your eventual results will be indistinguishable from real exams. In the long run it will not matter that your grades came via this system. You will still be able to progress to the Sixth Form and University in the normal way. The value of your GCSE and A level qualifications is not being altered, only the way they are being administered. None of your ambitions for the future will be affected by this decision.
The new system will be fair and balanced. Grades will be awarded based on objective evidence. Any grades that your teachers assign will be moderated carefully, to ensure they are consistent within and between schools.
Students in Year 11, 12 and 13 must take these points on board. Once you have recovered from the initial shock and disappointment it will be more important than ever to get on board with remote learning as your level of engagement will directly influence the grade you will be assigned in the summer. From now on, every piece of work you do can make a difference to your final grade.
External Examinations in January/February 2021
The OCR examinations in IT and i-media due to take place next week are yet to be decided. Students must continue with their preparations. As soon as any information is available the Head of Department will communicate with the students registered on these courses directly.
Any BTEC and other vocational examinations scheduled for January/February 2021 for Year 10, Year 11, Year 12, or, Year 13 students are not being taken as planned. Each of these exams have alternative sittings later in the year and our students will have an opportunity to take these examinations then.
We will remain in contact with parents regularly. Please use the contacts listed in the various communications in the table above to access support with any of the activities.
We won't get it completely right from the start but we should work together to try and make the best of the resources we have prepared. Please do not hesitate to contact your Head of Year for any further queries.
Stay safe and keep well.
Many thanks
Wanda Golinska, Headteacher
---
31st December 2020
Dear Parent, Carer
Return to school - Spring term 2021
You would have heard the government announcement on 30th December 2020 about their plans for the return of schools in January 2021. We will follow the DfE guidance that is being set out in the wake of these announcements.
Currently the guidance states that schools should extend a phased return to face-to-face education for secondary-age pupils. The major changes are that:
schools should take time in the week commencing 4 January to prepare to deliver testing of staff and pupils
in the week commencing 4 January, secondary schools should only provide on-site education to vulnerable children and children of critical workers, and prioritise remote education to those in exam years
in the week commencing 11 January, secondary schools should provide on-site education to vulnerable children, children of critical workers and those in exam years, and provide remote education to all other pupils
from 18 January, all pupils should return to on-site education
additionally, all secondary schools that are in the listed contingency areas will receive an update before 18th January 2021 regarding a possible further extension to remote learning
All schools in Wandsworth are in the current listed contingency area and we will await further guidance towards the end of the first fortnight.
As mentioned in my letter at the end of the autumn term, given that arrangements for the Spring term now need to change we will revert to using Monday 4th January and Tuesday 5th January 2021 as INSET days. We will not be able to have any students on site on these days. Our aim is to have remote education ready for all students from Wednesday 6th January (the DfE expectation is to provide remote education only for exam years). Staff will be adapting their lessons so that virtual school can commence for all and we will plan the new mass testing programme to be rolled out in early January.
Start of Term arrangements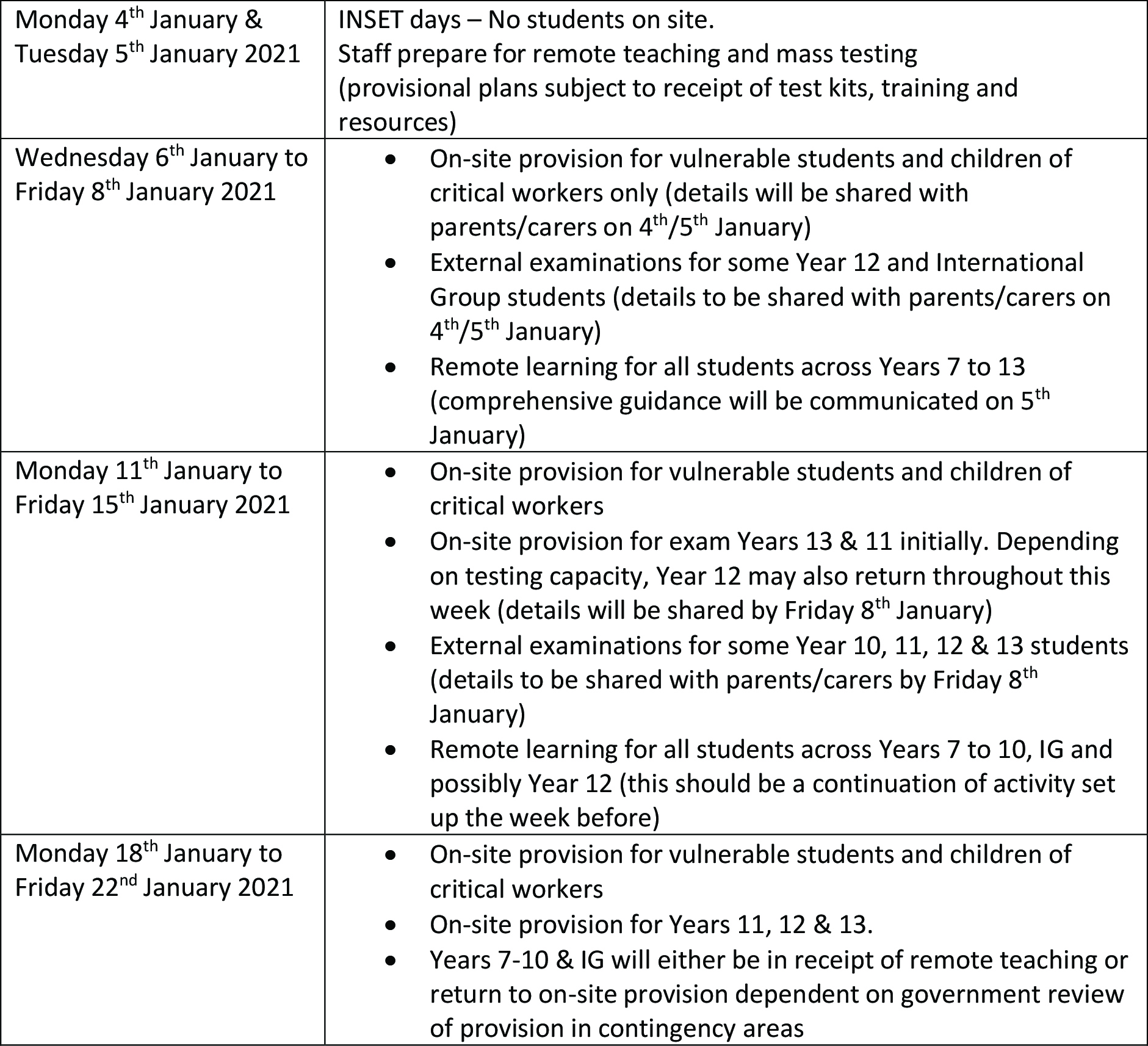 Please bear in mind that all arrangements are subject to change with short notice. We have yet to receive testing resources and training. Our intention is to secure testing arrangements and remote teaching as soon as possible.
Vulnerable students and children of critical workers
Heads of Year have collated this information and communications with parents/carers will commence on Monday 4th January. Some of the definitions regarding critical workers have changed since the March lockdown and parents/carers may want to check if they meet the current criteria. The latest critical care worker guidance can be viewed here.
Year 13 mock examinations
These had been planned to commence the week of 4th January. The exams are postponed and we aim to commence them on Monday 11th January according to the same timetable that was published at the end of term. Further guidance will be communicated by the Head of Year next week.
I hope you have had a safe and peaceful Christmas and that we continue to work together to secure the best provision for your children under these challenging circumstances in the New Year. Please be prepared for further communications from 4th January 2021.
Wishing you a more prosperous New Year.
Wanda Golinska, Headteacher
---
17th December 2020
Dear Parents/Carers
You may be aware that there have been announcements this week regarding the testing of secondary school students for Covid. These are an important development at a time when there is rising concern about the rapid increase in the rates of COVID-19 infections across Wandsworth and the whole of London.
Significantly, the Government has announced that families with secondary school children can now access testing even if none of you have any symptoms. This offer is now open and you can book a test for all adults and children in your family through the national website at https://www.gov.uk/get-coronavirus-test
Or if you prefer you can book a test by phone by ringing 119.
I would especially like to request that you get all of your children tested before they return to secondary school next term and ideally during the week beginning 27th December. If we all do this then this will help detect positive cases - including asymptomatic cases - isolating them at home to recover while keeping the whole school community safe.
When asked to specify a reason for requesting a test please select the following option from the menu:
'My local council or health protection team has asked me (or someone I live with) to get a test, even though I do not have symptoms'
These tests are not mandatory and form part of a national programme to reduce the potential of the virus spreading. Anyone who does not have symptoms of COVID-19 but has previously tested positive for coronavirus will not need to be retested for 90 days.
It is important to remember that the test result tells you whether you have Covid-19 at the moment you take it. It does not tell you whether you've previously had Covid-19. If you get a negative result, it does not mean you will remain Covid-negative for any specified length of time. This means that it is vitally important that we all continue our individual efforts in following the current rules.
So the simple messaging around HANDS, FACE and SPACE remain crucial and if any of your family develop symptoms please do isolate at HOME and book yourself a COVID test as quickly as you can (see https://www.gov.uk/coronavirus for all the latest guidance).
Testing at Schools
The Government has also announced that it will be rolling out rapid testing at all secondary schools from January. The aim is to give as many students as possible the opportunity to continue to receive high quality face to face education while stopping transmission of the virus.
Under this programme, all staff will be able to be take a lateral flow test weekly which will help identify those who may be carrying the virus without displaying symptoms, reducing the risk of transmission. Students and staff identified as close contacts of someone who has tested positive will also be able to be tested daily, with the results given within 30 minutes. Anyone who agrees to be tested in this way will then not need to self-isolate, unless they themselves test positive. In doing so, it is hoped that students can continue to receive as much face to face learning and teaching as possible.
Testing will be voluntary but those who are eligible for tests are strongly encouraged to participate to reduce the risk of transmission within the Academy. In line with routine infection control practice, close contacts who decide not to be tested daily will need to self-isolate in line with Government guidance. The Government has produced information for parents which can be accessed here https://dfemedia.blog.gov.uk/2020/12/15/mass-testing-in-schools-your-questions-answered/
I am confident that the measures we have put in place have contributed to the low incidence of confirmed Covid cases and I thank you all again for doing your part by adhering to the rules and following the guidance. I shall be in touch in the New Year when I will hopefully know more detail about how the testing will work. In the meantime, I wish you and your families a peaceful Christmas.
Yours sincerely
Wanda Golinska, Headteacher
---
15th December 2020
Dear Parents and Carers
Since my last letter to parents on December 9th there has been much activity surrounding the growth of infections in the south of the country. London has been placed into tier 3 restrictions, although, at the moment, schools are being told to remain open. Our end of term arrangements do not change (see letter dated 4th December 2020).
Throughout the autumn term we have had two confirmed covid cases amongst the staff and three confirmed student cases. On each occasion we have contacted PHE and acted on their advice. Fortunately, on each occasion, the infection was contained and we have not had to send home any student 'bubbles'. I thank the students, parents and staff for their complete co-operation and on-going support. Our students have been able to make the best use of a full school term unlike many other less fortunate schools.
It is impossible to predict how restrictions will develop in the new year. Previously I have shared contingency plans with you - these are the Educational Tiers (not to be confused with regional tiers of restriction) and can be viewed here. If we are instructed to move to Educational Tier 2, 3, or, 4 then I will notify you as soon as that instruction is passed onto me. Please be vigilant and check the Academy website on Sunday 3rd January 2021 for any updates. Please be aware if there are unplanned changes and students are asked to learn from home then we may revert to using the 4th January 2021 as an INSET day.
Track and Trace during the holiday period
The DFE has contacted all schools requesting that for up to six days after the end of term, all schools have a system in place for notifying parents of positive cases where their child has been identified as being a close contact.
The guidance states "For the first six days after teaching ends, if a student or staff member tests positive for coronavirus (COVID-19), having developed symptoms within 48 hours of being in school, the school is asked to assist in identifying close contacts and advising self-isolation, as the individual may have been infectious whilst in school."
This means that between Thursday 17th December and Tuesday 22nd December you may be contacted by school and your child may be told to isolate for 10 days due to being an identified close contact of a positive COVID case. Please click here to see the NHS guidance for what to do if you are advised to isolate after being in contact with a positive case.
If between Thursday 17th December and Tuesday 22nd December your child tests positive for COVID having developed symptoms on either Thursday 17th or Friday 18th December, please contact the school via our welfare lines on 07437 794201 or 07379 862150. Messages will be checked each day until Tuesday 22nd December.
Please be ready to tell us:
● Your child's name and tutor group
● The date of their first symptoms and the symptoms they are experiencing
● The last date they were in school
● The date of the positive test (including a screenshot of the email or text notification)
We will then contact all parents of close contacts of that child via text message, notifying them of a positive case and advising their child to isolate for 10 days.
Guidance on isolation periods dependent on last day of contact with a student who tests positive can be seen below: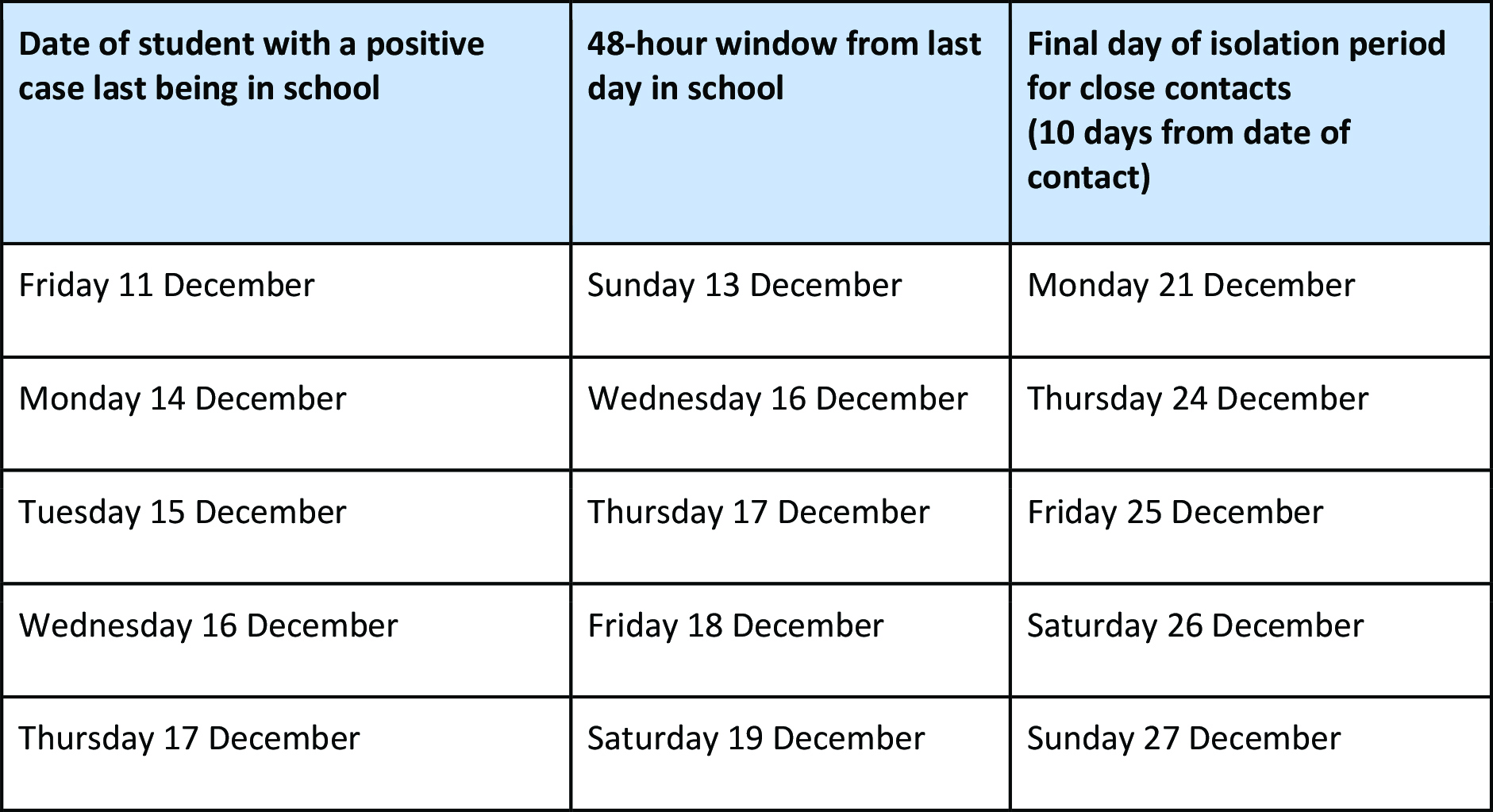 Many of you may be planning on travelling over Christmas to visit relatives. It is essential that if you are notified of a positive case that you follow the NHS guidance on isolating.
If your child develops symptoms in the days before the new term commences, please keep them at home to self-isolate, arrange a test as soon as possible and inform us if it is positive.
Finally, we hope you have a safe and peaceful time over the festive fortnight.
Yours sincerely,
Wanda Golinska, Headteacher
---
14th December 2020
Dear Parent / Carer
Please see below for an important letter from the Local Authority regarding the food voucher scheme for the following families: all children entitled to Free School Meals, all those with a social worker and in need of help or protection, all those extremely clinically vulnerable, all those with disabilities with our special 0-25 service, all those registered as young carers, all foster families. The letter also gives information regarding support for access to technology for remote learning and other initiatives to support families.
If you need help with accessing any of these, please contact Pedro Peixoto on pedro.peixoto@richmondandwandsworth.gov.uk or phone 020 8871 6622, selecting Option 1.
Wanda Golinska, Headteacher
---
9th December 2020
Dear Parent / Carer
I am writing to inform you that we have a single confirmed case of Covid in Year 13. I would like to reassure you that we are following current guidance from Public Health England and the Department for Education.
May I remind you that if your child is displaying any of the symptoms listed below that you should keep them at home and arrange a test for them at the earliest opportunity:
A high temperature - this means you feel hot to touch on your chest or back (you do not need to measure your temperature)
A new, continuous cough - this means coughing a lot for more than an hour, or 3 or more coughing episodes in 24 hours (if you usually have a cough, it may be worse than usual)
A loss or change to your sense of smell or taste - this means you've noticed you cannot smell or taste anything, or things smell or taste different to normal
You can find further information about symptoms here https://www.nhs.uk/conditions/coronavirus-covid-19/symptoms/
It is also important that you alert our attendance officer if your child has symptoms so that e can trace their contacts at the Academy. Please call 020 8875 2634 to relay this information.
We have been most fortunate to date to have been able to keep the Academy open and operating as close to normal as possible. We could not have done this without the on-going support of parents and our students however, as infection rates remain high in London, we ask everyone in our community to remain vigilant and to follow all of the protocols that have been put in place. You can find details of these in the most recent letter parents, see below.
Thank you for your support and cooperation which has ensured that we are able to keep our students and staff as safe as possible.
Wanda Golinska, Headteacher
---
4th December 2020
Dear Parent/Carer
End of Term
This autumn term has passed in a flash. We have been busy with ensuring safe student movement around the site, teaching and cleaning. Students and teachers alike have spent much time outdoors and much time maintaining healthy practices.
Your children are a credit to you all. They have been fantastic throughout this term, walking the one way systems, cleaning their desks, wearing their face covering, sanitising and responding so positively to numerous requests, even if they don't understand them. Most importantly, attendance levels have been very high, students are attending school all the time and, subsequently, learning and catching up on missed work due to the first lockdown.
In order to meet the safety requirements through this Covid period, we put in place arrangements so that students do not all start or finish at the same time, student bubbles do not use the dining hall at the same time, student bubbles do not mix, we have shorter breaks, students socialise in outdoor zones and, in places, we have a condensed curriculum.
Under these conditions our attendance rates for both students and staff surpass national and Wandsworth levels. Consequently, we will not be changing our arrangements until external conditions demonstrate a significant decrease in levels of risk.
We have been able to review the progress of most year groups this term and have identified a growing need for more support and intervention. Leaders and teachers are already putting in place interventions, either before or after school, but these continue to be restricted due to safety considerations.
Normally we would be having a number of festive events and performances at this time of year but this time these are very restricted and mostly virtual.
Most students will have their final day of term on Wednesday 16th December when school will finish at the usual time for Years 7, 8, 9, and 12 L2 students. Upper school Years 10, 11, 12, 13 and IG will have a staggered finish between 2.15pm and 3pm. There will be small numbers of selected students who will attend on Thursday 17th December in order to catch up. Parents of these students will be notified separately.
Spring Term 2021
We are continuously reviewing the calendar events this year and have decided to postpone the planned INSET day at the start of term.
The new term wil start for all students on Monday 4th January 2021. Students should arrive at their usual differentiated time, in full school uniform, with face coverings, warm undergarments and winter hats and coats.
Spring Term Dates - Provisional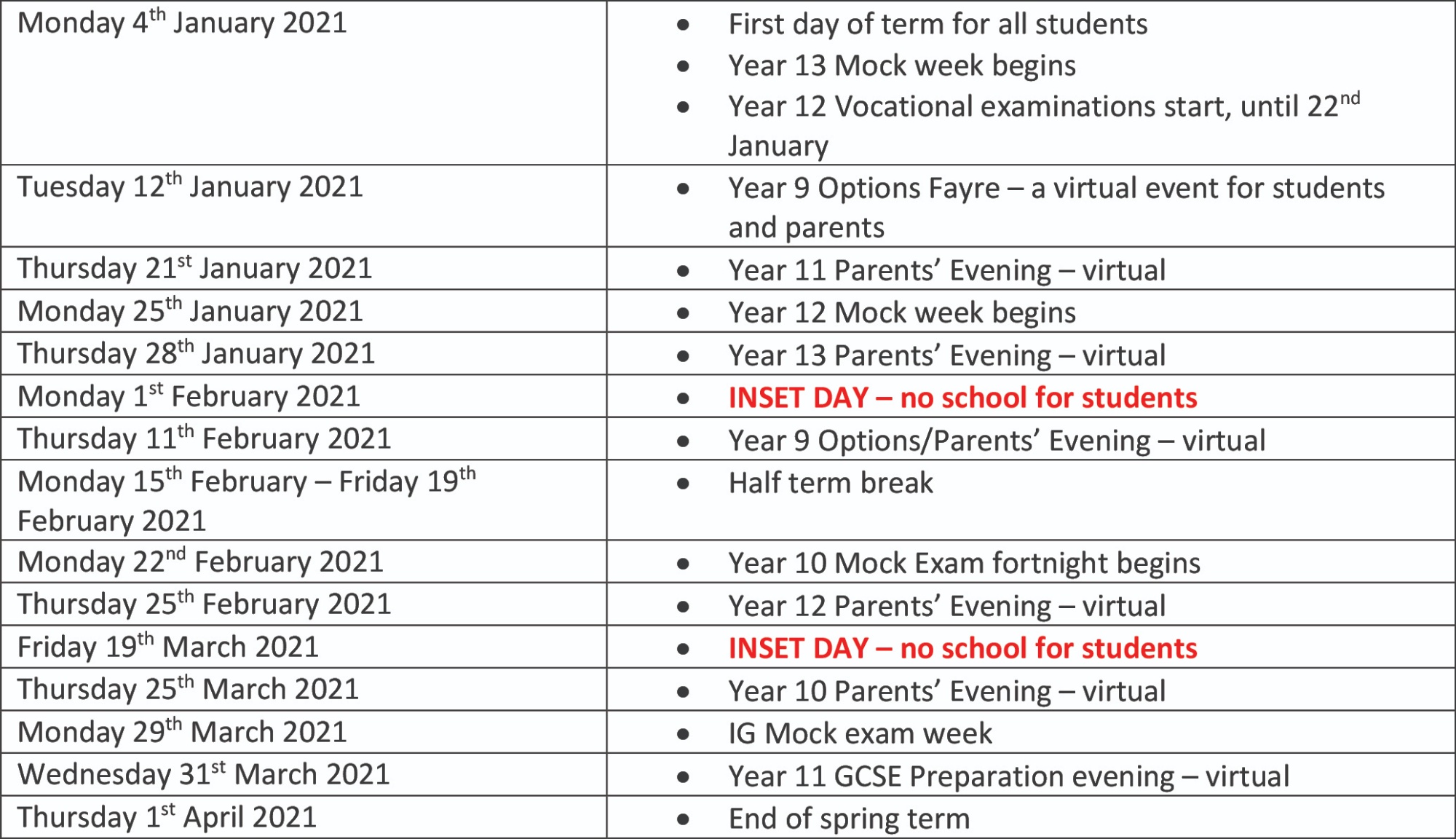 All calendar arrangements involving parents will be virtual for the time being. INSET days are subject to change and depend on Government education announcements.
I hope that you all enjoy a well-deserved break and, where possible, spend some quality family time in a safe way.
Festive wishes.
Yours sincerely
Wanda Golinska, Headteacher
---
8th December 2020
---
7th December 2020
---
11th November 2020
Year 11 Mock Examinations and end of term arrangements, click the button below to read this letter.
5th November 2020
Dear Parent/Carer
I hope that you and your family had a restful break over the half-term holiday period.
As you will be aware, the Government is clear in its intention to put in place a second national lockdown from Thursday 5th November. This time there are some differences in the restrictions that will be put in place; most significantly, schools are to remain open and students are expected to attend school.
Safety measures
Naturally we will follow the Government guidance with the aim of keeping our students and teachers as safe as possible. We have been most fortunate that we have not had to send home any students/groups for Covid-related reasons. Students have been kept in bubbles and zones. Any time not spent in lessons, students htterave been outside.
Face coverings
Shortly before half term we changed our rules on face coverings on site:
Face coverings are compulsory in communal indoor spaces, such as corridors. Your child may also wear one in lessons but this is optional.
Your child should have at least two separate sets of face coverings – one for travel to school i.e. the bus and one for school.
Face coverings are going to be a feature of school life for the foreseeable future, so please make provision for your child to have a sufficient supply of clean face coverings each day.
Please remind your child they must not share their mask and that face coverings must be washed regularly. It is recommended that face coverings are changed every three hours.
Face coverings must be plain, without obvious logos or decoration.
Although we have reusable face coverings for sale, sending a child to purchase one is disruptive for the student and the member of staff who has to accompany them so we would ask that your child arrives each morning with an appropriate face covering.
If there is a medical reason why your child cannot wear a face covering, please inform your child's Head of Year. Your child will be given an exemption lanyard or pass attached to their diary to denote this. Some students find a plastic visor a suitable alternative. If a student can't wear a face covering, they must maintain social distancing indoors at all times.
A reminder that face coverings are compulsory on all public transport.
Please help us keep all members of the community safe by ensuring your child can comply with face covering and distancing regulations.
Other hygiene measures
We know that good hygiene is effective in reducing the spread of the virus. Please remind your child to continue to:
Wash their hands with soap regularly
Use a tissue if they sneeze and dispose of it carefully i.e. "Catch it, bin it"
Use the provided sanitisers on arrival at school, when entering dining zones, every classroom and upon exit
Before and after each lesson, surfaces used by students are cleaned with anti-bacterial cleaner, and each dining table in the dining hall is cleaned in between year group bubbles' use. Toilets are also staffed by cleaners during break times and are cleaned frequently.
Attendance
During this next lockdown, the Government has made it clear that schools are to remain open and students are to attend unless:
They are ill
They are displaying Covid symptoms
They are self-isolating having been traced as a contact/living with someone who has tested positive or awaiting test results
We cannot begin to provide a full remote learning experience (Virtual school) for students until the Government asks us to move from Educational Tier 2 to 4. Tiers are explained in the table below: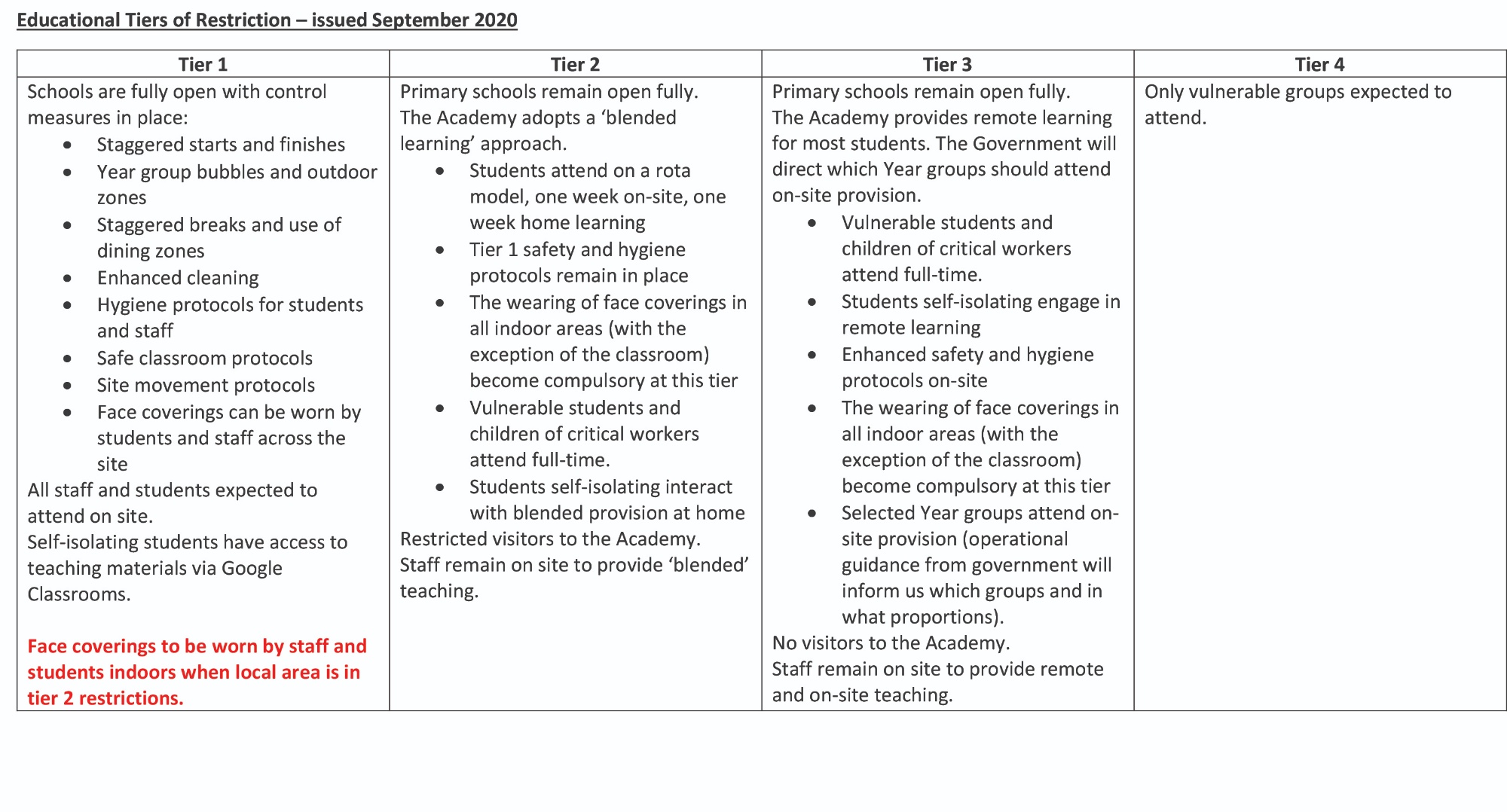 Those students who are forced to self-isolate for Covid-related reasons will be able to access some of the learning materials from the lessons they have missed. If your child is self-isolating for Covid-related reasons please make contact with your Head of Year and they will provide you with access to these materials.
Wet and cold weather
Temperatures are now dropping as we head into winter. At the same time 'lockdown' restrictions mean we will not be able to bring students indoors unless it is for lessons or the short period they have in their dining zone. We are also required to keep windows and doors open in classrooms to help with fresh air circulation. Similarly, all doors to the outside are being kept open. It is important for students to stay warm in order to keep all infections at bay.
Please make sure your child has warm layers under their uniform and that they arrive to school with a warm, waterproof black jacket/coat and, where appropriate, an umbrella. In order to avoid losing heat through the head, we will allow your child to wear a woolly hat outdoors.
Temporary additions to the uniform:
Face coverings, plain and without logos
Woolly hat, plain, preferably black but dark blue or dark grey will be permitted (no logos, no caps)
Gloves, plain
Umbrella
As the Government updates guidance for schools, I will communicate any changes that will impact our community. Thank you again for your continuing support.
Yours sincerely
Wanda Golinska, Headteacher
---
23rd October 2020
Dear Parent/Carer
As the first half term of this academic year draws to a close, I want to begin by thanking you for your support during what has continued to be a very challenging time for us all. Without your support we would not have been able to offer the quality and quantity of education that we have been able to since September.
Your child has shown great resilience and fortitude in working with us to keep everyone in our community safe. They have adapted to the various safety protocols, such as wearing face coverings in corridors and communal areas, even when these changes have been imposed at short notice.
Despite the challenges we have faced as a community, we are proud that we have remained fully open throughout this half term and sincerely hope we are able to continue to do so in the coming months. I acknowledge that in our efforts to do this, the regulations that have enabled it have taken a toll on our students and staff who are now all very tired as we start the half term break.
So that we can continue to operate as successfully as we have been, may I remind you of some important points ahead of the start of the new half term:
There are rising numbers of cases of the virus in London and we cannot let our guard down at all. During break times, students will continue to be outside, unless they are eating in the dining zone. The weather is getting colder so please ensure your child is wearing their full school uniform as well as adequate layers and a suitable coat to keep them warm and dry.
Face coverings are compulsory in communal indoor spaces, such as corridors. Your child may also wear one in lessons but this is optional.
Your child should have two face coverings – one for travel to school i.e. the bus and one for school. We have reusable face coverings for sale for £1 if you require them. Please remind your child they must not share their mask and that, if reusable, it must be washed regularly. If they chose to use a disposable mask, please ensure they dispose of it safely.
Face coverings must be plain, without obvious logos or decoration.
If there is a medical reason why your child cannot wear a face covering, please inform your child's Head of Year. Your child will be given an exemption lanyard or pass attached to their diary to denote this.
A reminder that face coverings are compulsory on all public transport.
Students should attend the Academy each day in full school uniform. Students not doing so may be sent home to change into the correct uniform.
From the start of the new half term, students must not use their mobile phone within the Academy, unless this has been authorised by a teacher as part of a lesson. Students must ensure phones are switched off and put away before entering the Academy. Mobile phones may be confiscated from students who do not adhere to this rule. Sixth Form students may use their phones during study periods but only when they are seated in designated study areas such as the dining area or study space.
A reminder that students must travel directly to and from the Academy. They shoulds not go to Southside shopping centre, unless accompanied by a parent. Whilst wearing our uniform, students are ambassadors for the Academy and, as such, should behave appropriately while travelling to and from school.
As we approach firework season, parents/carers should remind all students that the possession of fireworks, or other explosive items, is prohibited and could result in a permanent exclusion if brought to the Academy. In order to ensure the safety of all students and staff, senior leaders will be conducting searches for banned items in the coming weeks. Please discuss this with your child.
Remote learning via Google Classrooms – by now every student has been required to submit homework regularly via Google Classroom for each subject, in addition to class resources being uploaded here when appropriate, so they understand how to interact with online learning and expectations. Please see the attached Educational Tiers information to understand the actual and remote learning expectations for each tier. Should we enter an Educational Tier or be required to send home a year group, or part of one, you will be signposted to the necessary information through our wesite on the remote learning guidance, expectations and protocols.
Please note, when your child is using Google Classrooms, please tell them NOT to click on the option "Join and use a phone for audio"or the phone icon as this can result in very large phone charges.
Thank you again for your continuing support and I wish you and your family a safe and refreshing half term break.
Yours sincerely
Wanda Golinska
Headteacher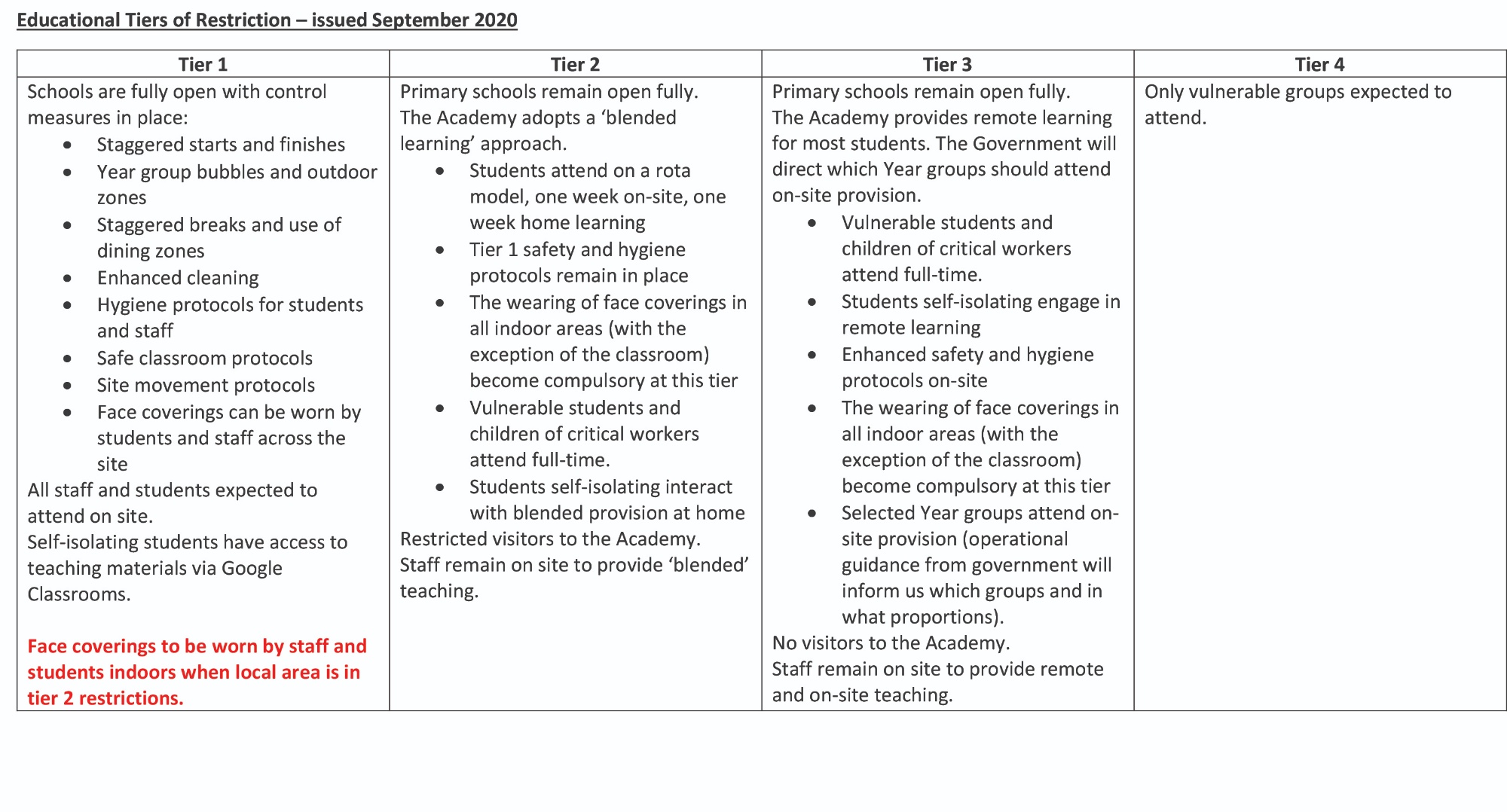 ---
17th October 2020
Face coverings at Southfields Academy
Active from Monday 19th October 2020
London has moved to tier 2 restrictions and is on 'High alert' from Saturday 17th October 2020. This means that the guidance on wearing face coverings in schools has now changed and is as follows:
Consistent with WHO's new advice, schools and colleges should take additional precautionary measures in areas where the transmission of the virus is defined as either high or very high under the local COVID alert level framework. Information on the local COVID alert level can be found in the full list of local COVID alert levels by area guidance.
When an area moves to the local COVID alert level 'high' or 'very high', in education settings where year 7 and above are educated, face coverings should be worn by adults (staff and visitors) and pupils when moving around indoors, such as in corridors and communal areas where social distancing is difficult to maintain. As in the general approach, it will not usually be necessary to wear face coverings in the classroom, where protective measures already mean the risks are lower, and they may inhibit teaching and learning.
Students and staff at the Academy will be expected to follow this new guidance from Monday 19th October 2020.
Wanda Golinska
Headteacher
12th October 2020
Year 11 Parents' Evening - Thursday 22nd October
Dear parent/carer,
Please note that this calendared event for year 11, will no longer be a face-to-face event on the Academy site. This is due to COVID restrictions and our duty to ensure everyone's safety. Instead, you can expect to receive a full report on your child's progress, before we break for half term. The report will contain:
-attainment and effort data based on recent in-class assessments
-attendance and punctuality statistics since the start of term
-a predicted grade (end of course prediction by teacher, should your child continue to work in a similar way throughout this academic year)
-behaviour data (positives and negatives) since the start of term
-homework data, since the start of term, detailing the number of logs for missed homework
-a written comment from each of your child's subject teachers
-a written comment from your child's tutor
To supplement this report, there will be videos posted on this dedicated Year 11 Parents' Evening page from each subject, providing you with advice and guidance about supporting your child at home. In addition, there will also be a video around generic study skills, well-being and exam preparation. Click here to visit the page, or click on Year 11 Parents' Evening 22/10/20 in the menu to the right.
Whilst this change doesn't enable you to have face-to-face conversations with your child's teachers, we are striving to ensure that you are still able to access personalised, relevant information about your child's progress and ways to improve.
If, having received your child's report, you wish to discuss any of the details, please do contact your child's tutor, their relevant subject teacher or me. Since the report will be emailed to you, please ensure that we have your up-to-date email address.
Yours sincerely
Ms K Marshall
Head of Year 11
25th September 2020
The headteacher has written to you all with an update about Attendance and Work Expectations. Click here to download and read her letter.
18th September 2020
Dear parent/carer
We have now had all students return and following new timetables and new protocols.
Firstly, it has been a great pleasure to see all our students back and even though some may not admit it, you can tell from their interactions, that students are also pleased to be back. Much time was invested in gaining an understanding of student experiences throughout lockdown and assessing any support needs. We now have a task to ensure we can put in place that support in our new school day.
We ask that parents support their child in continuing with those good habits of engaging with Google Classrooms. Each subject teacher is setting weekly homework on Google Classrooms and familiarity with this medium will ensure students are prepared for the eventuality of having to work from home should a partial isolation period occur.
To date we have had no confirmed cases of COVID in our Academy, but we know that nationally infections are on the rise. Please take note of the information below.
What to do if your child develops symptoms of COVID 19
If your child develops symptoms of COVID-19, they should remain at home for at least 10 days from the date when their symptoms appeared.
All other household members who remain well must stay at home and not leave the house for 14 days.
The 14-day period starts from the day when the first person in the house became ill.
Household members should not go to work, school or public areas and exercise should be taken within the home.
Household members staying at home for 14 days will greatly reduce the overall amount of infection the household could pass on to others in the community.
If you are able, move any vulnerable individuals (such as the elderly and those with underlying health conditions) out of your home, to stay with friends or family for the duration of the home isolation period, or make some changes to adopt effective distancing at home
Symptoms
The most common symptoms of coronavirus (COVID-19) are recent onset of:
new continuous cough and/or
high temperature
a loss of, or change in, normal sense of taste or smell (anosmia)
For most people, coronavirus (COVID-19) will be a mild illness.
If your child or anyone in the household does develop symptoms, you can seek advice from your GP or NHS 111 at:
https://www.nhs.uk/conditions/coronavirus-covid-19/symptoms/ or by phoning 111.
How to stop COVID-19 spreading
There are things you can do to help reduce the risk of you and anyone you live with getting ill with COVID-19.
Do
wash your hands with soap and water often – do this for at least 20 seconds
use hand sanitiser gel if soap and water are not available (please supply an alternative sanitiser for your child if they are allergic to the alcohol based sanitisers, otherwise hand washing is the alternative)
wash your hands as soon as you get home
cover your mouth and nose with a tissue or your sleeve (not your hands) when you cough or sneeze
put used tissues in the bin immediately and wash your hands afterwards
Further Information
Further Information Further information is available at:
https://www.gov.uk/government/publications/guidance-to-educational-settings-about-covid-19
School arrangements updates
Equipment
We cannot provide, or, share equipment in the usual way due to safety reasons and therefore rely on students to bring their own consistently. You should equip your child with ample supply of the equipment listed below so that each day they can come to school fully prepared. Your child should carry the equipment in a clear plastic wallet:
Pencils

Pens/biros – black, green

Eraser

Sharpener

Ruler

Protractor

Calculator

Post-it notes

Glue stick

(A maths set will often incorporate a number of these items)

Additionally the school will soon supply each student with an A4 sized mini whiteboard, a whiteboard marker and rubber. Students will need to carry these to and from school daily alongside the equipment listed in the box above. Should a student mislay their board, they will need to purchase a new one from the school.
Bubbles, lunches and water
We are keeping students in their year group bubbles throughout the day, in lessons, in the canteen and in their outdoor zones. 6th Form students and International Group students must wear their ID badges and lanyards as soon as they become available. Year 7 to Year 9 students must wear their coloured badges. During break, the time spent in the canteen is short as two year groups need to be accommodated on a rota every break time. Free School Meals continue to be available, but where possible, we encourage a packed lunch for students.
We are increasing the number of water stations at school but again suggest that students arrive to school with a full water bottle.
6th Form changes to staggered starts
The 6th Form contains three bubbles but currently only one shared study space. In order to prevent cross contamination some students, across Year 12 Level 3, or, Year 13, will be permitted to start later, at 11.00am, or, go home earlier (either at 2.05pm or 3.00pm) if they do not have lessons period 2, or, period 5 or 6. For clarity it is important for parents to engage with the timetable for their child so that you know when these exceptions may arise. If in doubt please do not hesitate to contact the tutor or Head of Year for confirmation.
To date, 6th Form students have responded very responsibly about making the most of their face to face time with teachers and if they continue in this way they will make a strong start with return to on-site education.
Wet weather
As the weather begins to change you will need to ensure that your child has a suitable outdoor overcoat. Morning arrival and break times will continue to be outdoors. Please be vigilant when wet weather is imminent so that your child is prepared for those outdoor periods. Where normally your child may not use an umbrella it may be sensible to start using one.
Thank you for your continued support and flexibility with respect to alterations in arrangements. Working together we will ensure your child has the best educational opportunities in these challenging times. I would like to take this opportunity to wish our Year 13 students the best of luck in their progression examinations next week.
Kind regards
Wanda Golinska
Headteacher
---
4th September 2020
Letter from PHE and NHS Test and Trace to school and college leaders.
Dear parents and carers,
the DfE have asked us to share the PHE and NHS Test and Trace letter with you all.
To all school and college leaders,
As schools and colleges return for the autumn term and you welcome back pupils and students, we understand that this may raise some concern about the risks of transmission of coronavirus. Along with all schools and colleges across the country, we know you are putting in every effort to follow the guidance and ensure that children and students can return safely as the new term starts. To aid this work we wanted to write with further advice with regards testing and shielding.
Testing
The Department for Education has worked closely with Public Health England (PHE) and NHS Test and Trace to ensure that we are doing all we can to minimise the potential risks of spread. A key part of this is the appropriate use of testing to help identify people who are positive and subsequently their contacts. We have made testing available throughout the country and anyone with symptoms can book a test online or over the telephone through 119 to get the certainty they need to protect themselves and those around them.
Crucial to our overall support for schools and colleges is ensuring that everyone with coronavirus symptoms has access to a test as soon as they develop those symptoms. It is vital that we learn from the recent Scottish experience, where the return of schools saw a huge increase in demand for tests from people without coronavirus symptoms. We want to avoid a similar surge in test demand as England's schools and colleges return to ensure that we continue to prioritise our testing capacity for those with symptoms and to avoid children, students and their families self-isolating unnecessarily.
To ensure we identify those with coronavirus while avoiding a huge increase in demand for tests from people without coronavirus symptoms, we ask that you recommend to your pupils, students and staff who feel unwell, that they get tested if:
they develop one or more of the main coronavirus symptoms:

a high temperature
a new, continuous cough
the loss or change of their sense of taste or smell, or

they are recommended to get tested by a healthcare provider (e.g. GP or nurse)
If a pupil, student or staff member develops one or more of the main coronavirus symptoms described above, only they should be tested. There is no need for their households to have a test, unless they are also symptomatic. Unless a pupil, student or staff member has one of the three main coronavirus symptoms, they should only be tested if instructed otherwise by the local authority, health protection team or their GP. As schools and colleges across England return, pupils and students may feel unwell for example with a sore throat, stomach upset or a headache. These pupils and students don't need to book a test but may need to stay off school or college and seek medical advice through their GP or pharmacist as usual.
Please do communicate this to the parents of the children at your school and the students at your college; we know that they listen to you and trust your advice. Can you please also share this letter with your school nurse or relevant trained first aiders. Directors of Public Health and local PHE Health Protection teams are on hand to support you on this most vital mission to get our children and students back to school and college, learning happily and safely.
Shielding pupils
We now know much more about coronavirus (COVID-19). Except in areas with local lockdown restrictions shielding advice was paused on 1 August 2020 which means that even the small number of pupils and students who will remain on the shielded patient list can also return to school or college, as can those who have family members who were shielding.
Specialists in paediatric medicine have reviewed the latest evidence on the level of risk posed to children and young people from coronavirus (COVID-19). The latest evidence indicates that the risk of serious illness for most children and young people is low. In the future, we expect fewer children and young people will be included on the shielded patient list and far fewer children and young people will be advised to shield whenever community transmission rates are high.
However children and young people will only be removed from the shielding patient list by their GP or specialist, following consultation with the child or young person and their family, and other clinicians where appropriate. So children or young people who received a shielding advisory letter early in the epidemic will be encouraged to talk this through with their GP or specialist at their next appointment. For those few children or young people who do need to remain on the shielding list for the longer term, details will be retained so that they and their families can be assured they will be contacted again should community transmission rates rise in the future.
Therefore, schools and colleges should welcome back children and young people who have previously been shielding unless they are:
in a local lockdown area with specific shielding restrictions, or
have been advised to self-isolate because they, their family or a close contact have COVID-19 infection, or
they have recently been specifically advised to remain off school or college – for example with a new serious diagnosis such as active cancer
Yours,
Yvonne Doyle, Medical Director and Director of Health Protection, Public Health England
Susan Hopkins, Interim Chief Medical Adviser of NHS Test and Trace
27th August 2020
Control Measures at School updated guidance for parents
24th August 2020
Dear Parent/Carer,
Start of the school year in September 2020
Following the most unusual summer term I hope you and your families have been able to get some rest, enjoy the sunshine and stay safe.
In the last two weeks our outgoing Year 13 and Year 11 students have had mixed experiences in receiving their examination results due to changes announced on results days. Fortunately, by far the majority of students have achieved the grades they required to progress to the university of their choice, or, 6th Form course. Congratulations to all our exam takers.
We now look forward to a full, phased return to school in September. I appreciate that some parents or students may be a little anxious for a number of reasons so our plans are for a measured and safe return in September. Firstly, staff will need training around new protocols and control measures, and then we will hold individual reintegration interviews with every student and parent to ensure a safe return.
Please read the detail for our new safe arrangements and bring any questions to your reintegration interview.
Arrangements for staggered reintegration interviews and start dates
Year group

Reintegration interview days

Induction and start of adjusted full timetable

7

Year 7 will start with induction on Friday 4th September, will follow a reduced timetable on Monday 7th and Tuesday 8th September, then commence their full timetable on Wednesday 9th September.

8

Monday 7th September & Tuesday 8th September

Monday 14th September

9

Wednesday 9th September & Thursday 10th September

Monday 14th September

10

Wednesday 9th September & Thursday 10th September

Friday 11th September

11

Monday 7th September & Tuesday 8th September

Friday 11th September

12 Level 2

Monday 7th September & Tuesday 8th September

Friday 11th September

(External students will have induction on Friday 4th September)

12 Level 3

Wednesday 9th September & Thursday 10th September

Friday 11th September

(External students will have induction on Friday 4th September)

13

Monday 7th September & Tuesday 8th September

Friday 11th September

International Group

Wednesday 9th September & Thursday 10th September

Induction on Friday 4th September

Full timetable start on Monday 14th September
Parents will receive a letter with the specified reintegration appointment time. Students should attend with parent/carer in full school uniform and with updated contact details.
Students who have symptoms of covid, or, who have tested positive with covid must not attend school until they have recovered fully.
If the household in which a student is living are isolating, the student must not attend school until the isolation period has elapsed.
Students are expected to attend school in full school uniform. They must bring only essential equipment for lessons. This means they should have their own pencil case with pens, pencils, erasers, ruler and a calculator. Part of our safety protocols means we are unable to lend equipment to students. Students should bring their own water bottle and can bring a packed lunch if they want to. The school canteen is open for hot meals.
Arrival to school
Travel to school – where possible we advise all students either walk or cycle. If your child has to use public transport then please ensure they are equipped to wear a face mask in line with the regulations. These masks will need to be stored away safely by the student (in a plastic, zip locked bag), or, disposed of safely on entry to the academy. If a student wishes to wear a mask on site, it needs to be a clean mask and not the mask used on public transport.
Students will enter the school site arriving via the King Georges' Park back gate entrance. These gates will be open for different year groups at the specified times listed in the table below.
Any student showing symptoms of Covid-19 will be sent home and their parents notified. Parents should confirm any changes to contact details so that the school has up to date information. The School will notify Public Health England if a student tests positive for Covid-19 and will follow their advice on how to proceed.
Any student who is feeling unwell with symptoms other than those of Covid-19 will also be sent home and parents notified as we will not have the capacity to support students who are unwell on site.
Students will not be able to go to the medical room for minor issues. They will need to remain in class or ask to be sent home if they are unwell. Staff will not allow students to go to the medical room during lessons. If any student is feeling unwell, they should speak to their teacher who will send them to Reception. Students will then wait on the benches in the foyer before being seen by a member of SLT who will decide whether the student is to remain in school or be sent home. If a student is to be sent home parents will be notified immediately.
On entry students will register and sanitise their hands before making their way to their year group zone outside.
The School Day
Students will be issued with a coloured badge which will indicate which year group they are in. This will help us to ensure that the year group 'bubbles' are kept apart through the school day.
At 10 minutes before lesson 1 starts, the whistle will be blown and students will line up in their zones in tutor groups. Students will then be dismissed to lessons in a staggered manner.
Students will receive their timetable during their reintegration interview. This timetable will include all planned lessons with movement time in between and one break time only. Students will follow a full curriculum taught by their specialist subject teacher.
Each student will only have one break time to minimise opportunity for cross-contamination. Students will be able to buy a hot meal in the canteen (or Free School Meals will be provided as appropriate) and then will be expected to spend the rest of the break time outside in their specified zone. There will be no indoor break facilities. Students should be prepared with waterproof overcoats for those occasions when it is raining.
Afternoon registration will take place in tutor groups every day. After this, tutors will escort students off site in a staggered manner for year groups 7, 8, 9 and year 12 Level 2. Exit will be via King George's Park gate. Students must not gather in the park but must make their way home on dismissal.
For years 10, 11, 12 Level 3, 13 and IG, students will proceed to lesson 5 after tutor period.
There will be no large group gatherings during the school day, instead assemblies will take place virtually in tutor groups once a week.
Throughout the school day students will follow a timetable in their year group bubbles and will have break in their year group bubble.
Whilst moving around the site in between lessons students must observe the one-way systems in corridors and on stairwells where this has been marked out. Students will move around the site in single file to minimise cross contamination between different year groups. Following reintegration interviews students' first day back will include induction and familiarisation with new systems.
Our behaviour policy will be in place and the highest standards of behaviour will be expected at all times. Any covid adjusted practices will be outlined in the protocols document on our website and will be explained during the IEAP interview.
Classroom practices
Students will line up outside their classroom and will be seated in a controlled manner by their teacher. Every classroom will be set up with hand sanitising stations. Students must sanitise their hands at the start and end of every lesson.
All desks are arranged so that student are facing the front. Students will be shown their seat by the teacher and must remain in their allocated seat throughout the lesson.
There will be a 2 metre line at the front of the classroom. Students must not cross this line and teachers will not cross this line. Teachers will not be able to move amongst students to provide the usual one-to-one support.
Any support from teaching assistants will be managed on an individual basis following an additional risk assessment.
Before students enter classrooms, desks will have disinfectant sprayed on them. On entry students will be handed paper towels to wipe down those surfaces and then throw the towel in the bin.
Doors and windows will remain open throughout lesson time.
At the end of lessons, students will be dismissed in an orderly manner when they must observe the one-way system to travel to their next lesson in single file.
Break times
There will only be one break time for each year group.
Each year group will be directed either to use the canteen at the start of break or to go to their designated outdoor zone.
Before entering the canteen students will line up, queue to buy their food and then be shown to a table where they can eat their food. As soon as they have finished students will take their plates to designated stations and then proceed outside to their year group zone.
Only one year group at a time will be using designated canteen zones. All tables will be cleaned between usage.
Outside students will have year group designated zones and designated toilets.
At the end of break the whistle will be blown and students will line up in their tutor groups.
Students will then be dismissed to lessons.
Departure
At the end of the school day students will be escorted off site in their class group via King George's Park gate. Students must not gather in the park but must make their way home directly on dismissal.
Students will depart at staggered times.
Year Group

'bubble'

Arrival

Break

canteen

Break

outside

Tutor time

Departure

7

8.00-8.20am

10.35am

10.50am

1.15pm

By 2.00pm

8

8.00-8.20am

10.25am

10.40am

1.15pm

By 2.00pm

9

8.00-8.20am

10.15am

10.30am

1.15pm

By 2.00pm

10

9.30-9.50am

1.00pm

1.15pm

1.40pm

3.40pm

11

9.30-9.50am

1.00pm

1.15pm

1.40pm

3.40pm

12 Level 2

8.00-8.20am

10.35am

Or off site

10.50am

1.15pm

By 2.00pm

12 Level 3

9.30-9.50am

1.15pm

1.30pm

1.50pm

2.50pm

Except Wednesdays at 3.45pm

13

9.30-9.50am

1.15pm

1.30pm

1.50pm

3.45pm

International Group

9.30-9.50am

1.15pm

In assembly hall

1.30pm

1.50pm

2.50pm
NB: These timings are subject to minor change. Movement will be closely monitored and managed to ensure safety. Timings may have to vary at any time.
All students who are in the 6th Form (Year 12 Level 2, Year 12 Level 3, Year 13) may go off-site during their break time following protocols issued by the 6th Form team.
Extra-curricular activities
There will be no morning or after school provision for the first half term. This will be reviewed at the end of the first half term.
School trips will not take place in the first instance and external visitors will not be attending school until the end of the first half term. This will be reviewed at the end of the first half term.
Specialist visitors and support workers will be able to provide support for our students but this will be managed with new protocols and control measures overseen by our SENCo.
Finally, please rest assured that we are making every effort to minimise risk to students and staff and at the same time endeavour to provide a full curriculum for your child to facilitate speedy recovery where necessary and continued progression in their learning. We ask for your co-operation in these endeavours and that you prepare your child in the best possible way to succeed under these control measures.
We aim for a positive start to the new academic year and hope that you and your family stay well throughout.
Yours faithfully
Wanda Golinska
Headteacher
---
17th July 2020
Dear Parent/Carer
We have reached the end of an academic year where half the year we were able to enjoy normal schooling and the other half relied heavily on home learning. Thank you for working with us to provide an education for your child.
Reports for students
Academic reports, albeit of a different nature this year, will be available for parents of Year 7 to 10 and Year 12 students on 'My Child at School'.
Year 11 and Year 13 reports will be issued once the GCSE and A level results have been published.
Year 11 and Year 13 summer results
Heads of Year will be communicating the details of arrangements for students to collect their results.
A level Results collection: Thursday 13th August between 9.00am and 12.00pm
GCSE Results collection: Thursday 20th August between 10.00am and 1.00pm
Summer home learning arrangements for students currently in years 7-10
Accompanying the detail set out in my letter to parents last week, in order to support your child's well-being over the summer break, we have devised a number of independent learning activities for them to complete. Task sheets will be made available at different intervals on the Academy website click here to view the page and you will receive an email directing you to it. The first sheet was launched on Thursday, 16th July 2020.
For current Year 10 students, this supplements fortnightly core and foundation revision tasks that subject teachers have set via Google classrooms, which will be also released fortnightly.
Upon their return to school in September, all students should be prepared to discuss and share evidence of the tasks they have completed.
Please remember we cannot neglect virtual school as we must ensure we are prepared for further possible lockdown enforcements.
Arrangements for September return to school
As with all schools we are planning for the return of all students, full time in September. We have keenly observed possible models of schooling that incorporate guidance that was most recently published on 3rd July, presented by other schools and Multi Academy Trusts.
We are carefully considering all options.
Parents and students have worked hard to adjust to remote learning conditions and many students have been successful in gaining new knowledge and new skills, in particular, with respect to the efficient use of IT and time management. With both the reducing of risk and enabling good quality teaching by subject specialists in mind, we are ambitiously working on a more complex model. Our model will still require student self-discipline, hygiene regimes, staggered start and finish times, staggered breaks and lunchtimes as well as careful movement around the site in one way systems. Students will need to wear school uniform. Most importantly, we wish to provide specialist teaching alongside safety measures.
The recent return of Year 10 and Year 12 students has taught us that once in school, students need their specialist teacher in front of them.
Given there are two months between the latest guidance and the start of school in September, we anticipate further changes to the guidance responding to changes in national or local conditions due to Covid. We have a number of variations to our model. Principally we aim to bring back all students in September, starting with the new Year 7 on Friday 4th September. Thereafter other Year groups will return in a staggered way to ensure thorough induction to new regimes and timetables. We will publish exact details in the last week of August to ensure the very latest guidance has been taken into consideration.
We plan for each parent to have an opportunity for a face to face exchange for a return to school meeting alongside their child with the tutor before we reopen fully.
Thank you to all of you for the support for home learning. We were recently able to test a number of our KS3 students who have continued to engage remotely with the Accelerated Reader Programme. For almost all of these students we were delighted to see that their reading ages had progressed at the expected standard. Please continue to promote the importance of reading with your children over the next six weeks.
Meanwhile, please prepare your child to return to school, in full school uniform, in the autumn term so that classroom learning can be re-established and your child can restart their studies in that familiar and much missed setting.
Parent voice
Whilst finalising the arrangements for the safe return of your child to school we would like to hear from you. We have set up an email address so you can email us your suggestions surrounding the return of your child to school. We will not respond to each email but will do our best to incorporate your suggestions into our planning. Please click here to e-mail only for September opening suggestions or concerns. It would be helpful if you stated the year group of your child.
Otherwise, please use the usual communication channels bearing in mind that staff will also be taking a break during the summer holidays.
Education Wellbeing Practitioners – summer programme
The past few months have felt really challenging for many students. Although our teachers will be on a break over the summer holidays, our team of Education Wellbeing Practitioners (EWPs) will be offering support all summer long.
It is very common for students to be experiencing some of the following challenges:
• Worry/anxiety
• Low mood and a lack of motivation
• Sleep difficulties.
If this applies to your child, the EWP service may be able to help with virtual 1:1 support sessions. Click here to download the EWP flyer for more information, and submit the referral form available by clicking here directly to: WandsworthWP@swlstg.nhs.uk.
If at any time you experience an urgent issue regarding child safeguarding, we have set up a welfare line for you to be able to contact a member of staff. Please phone 07437 794201 (Larry Davis, Deputy Headteacher) or 07379 862150 (Sara Sharpe, Designated Safeguarding Lead).
All parents of students with Free School Meals have now been sent a voucher to cover the summer holiday period.
If you require the services of the uniform shop please check here, the details are outlined on our website.
Please take the opportunity to have a break from home learning. Rest assured, working together, parents and the school, we will rebuild your children's knowledge and skills. We have been so pleased to see the return of so many students these last few weeks. We will do our best for your child.
Have a safe and healthy summer.
Yours faithfully,
Wanda Golinska
Headteacher
---
7th July 2020
Dear Parent/Carer,
End of Year arrangements:
We are approaching the end of term and below are the arrangements for closing down before the summer holidays.
| | |
| --- | --- |
| Virtual school provision for Years 7-10, 12 and IG | This will continue until Wednesday 15th July when teachers will begin to mute any interactive communications with students in preparation for the summer break. |
| On-site Years 7-9 provision for key worker and vulnerable children | This will continue until Thursday 16th July and then close down over the summer break. |
| On-site provision for Year 10 and Year 12 and IG students | This will end on Friday 10th July, students will not attend next week. Final teaching will take place on Google Classrooms until Wednesday 15th July. All summer homework activity will be posted on Google Classrooms in preparation for the next Academic Year. Students can submit work but will not be able to engage in virtual conversation with their teachers during the summer break. |
Summer Holiday activity:
Year 7,

Year 8,

Year 9

Work will be published on the website every two weeks and will relate to a fortnightly theme. The work will include wellbeing activities and an i-study style personal development project (with a cross curricular focus).

Year 10

This will be subject based to support revision of prior learning and preparation for the final GCSE year ahead. Each subject will post their activities on their Google Classroom, students will be able to submit work but will not be able to engage in virtual conversation with their teachers during the Summer break.

Year 11: for those hoping to start in our 6th Form

Introductory classes for 6th Form courses have now closed. All those hoping to commence 6th Form courses with us would have been interviewed by now. Students should complete their 'Starter for 12' activities related to their course choices. These are posted on the Academy website from 10th July and will be collected at the start of term.

Year 12

The pastoral team have set work related to the writing of personal statements associated with University applications.

Subjects will be posting revision materials and preparatory work for Year 13. These activities will be posted on Google Classrooms throughout the holiday and collected at the start of term.

International Group students

Summer holiday homework is being set via Google Classrooms. Students can submit work but will not be able to engage in virtual conversation with their teachers during the summer break.
It continues to be a real pleasure to have so many Year 10 and 12 students attending school at present. Our overall goal is to see all students return to school as quickly and safely as possible. Whilst we will be guided by Government advice, planning decisions will always be taken with an understanding of relevant local issues and we will always seek to maximise the safety and wellbeing of students and staff. As always, our governing body will continue to independently scrutinise all of our work and plans moving forwards.
Although there are, of course, a number of uncertainties remaining, at present we are confident that we can establish a 'new normal' in September which will enable all students to attend school on a full timetable.
A very brief overview of today's guidance is available in the following link: https://www.bbc.co.uk/news/education-53253722. Although this is, of course, only a news article, it provides a summary which you may find helpful.
Virtual Timetable
The Virtual timetable was issued this week in response to feedback. The lessons for each day are available in the student's Google Classroom as usual from 8.30 that morning. This offers a structure for learning across the week, with the timetable suggesting a structure for the day. Any queries please get in touch with Sarah Gray, Deputy Headteacher, Teaching and Learning via sarah.gray@southfieldsacademy.com
Year 7 Parent focus group feedback
Our Parent Focus Group met with the Principal this week and during the meeting it was very useful to hear their experience of the Virtual School. They were unanimous in their praise of the smooth running of the online school but did have some questions, which we believe others may have too, so we will answer these below.
Recorded lessons can be watched as many times as you like, so your child can go over any area again where they may not have understood a concept or point.
In some cases, parents can check that work set on Google Classroom has been completed. We are planning to roll out this facility more widely for the new academic year.
We do data collections at regular intervals to identify students who are not engaging with the Virtual School and this is passed on to our pastoral team to make one call to a parent rather than them being bombarded with calls from a number of teachers. As a result, there can be a delay between the student not engaging and the next data collection which will trigger the call home.
We are constantly looking to improve our systems for marking of work and feedback. Please be assured that our aim is to ensure that this is carried out regularly. Where it has been happening less frequently, improvements have been made and further steps have been taken to ensure your child's work is evaluated regularly.
We thank those parents in the focus group for their time and support of the Academy. Please remember, if you have any queries, your child's Head of Year will be happy to address these.
Although I will write next week as the school term comes to an end, please be prepared to read communications towards the end of the summer break in order to gain the latest information.
Thank you for your continued support.
Yours sincerely
Wanda Golinska
Headteacher
---
1st July 2020
Dear Parent/Carer
We have now had more students attend since 15th June following Government guidance. This extended on-site provision has been well received by students who have had well-being sessions followed by lessons that supplement their home learning. This limited provision has enabled us to better support our students, particularly with respect to their welfare, and has improved engagement with the continued predominant form of education on-line. We will not be making any changes to on-site conditions or our safety measures prior to the end of term even if the Government announces changes.
As we maintain the required maximum of 25% of Year 10 or Year 12 students on site at any time, we are inviting Year 7 in small groups on the days when others are not on site, Fridays, in order to provide similar well-being sessions and to support students with on-line learning engagement.
We are waiting for more specific Government guidance around re-opening in September 2020 before we publish our plans for the start of the autumn term. If a full return is expected with reduced distancing protocols alongside other mitigations, it is likely that we will need to phase a return in order to ensure that large groups understand any new regimes that might be required. The safety of our students and staff, alongside their welfare, remain our highest priority not forgetting the educational needs. For educational purposes we continue to grow our virtual school provision in case we will need to revert to on-line learning.
New virtual school timetable
Following feedback from students, staff and parents, we are launching a virtual school timetable to run from 6th-15th July for each year group. Teachers will set their lessons on the morning that the lesson is timetabled, at the same set times each week. This means that students will have structure for the learning that should be achieved that day. The timetables also work alongside the site provision that some students are attending. The year timetables will be shared with parents and students at the end of this week.
Please examine the link below which contains useful advice and resources on learning at home.
https://www.gov.uk/government/publications/coronavirus-covid-19-online-education-resources
Arrangements for Year 11 students
Many Year 11 students are currently completing their interviews for next year so that they secure a place for the next phase in their education. Those hoping to join our 6th Form would have engaged with our Introductory Classrooms (Pre-Post-16 rooms) in virtual school.
Important Year 11 dates:
3rd July – Introductory Google classrooms close
10th July – Starter for 12 activities on Southfields Academy website for students preparing to start Post-16 courses in September.
10th July – Students hoping to study A levels in maths or sciences will need to prepare for a test in the first week of September. Revision materials will be released on 10th July and available on the Academy website.
20th August – GCSE results day: we are hoping to release results on site and expect students to be available to attend a 'Results and Progression' session.
Week commencing 31st August – A level maths and science tests.
Week commencing 7th September – Induction to Year 12. Details to be shared in August. Students must be available to commence 6th Form study.
Summer results:
Thursday 13th August – A level results day. Detail for Year 13 students will be published nearer the time by 6th Form leaders.
Thursday 20th August – GCSE and Level 2 results day. This is for Year 11 and Year 12 Level 2 students. Detail will be published nearer the time.
As the school year begins to draw to a close we recognise that much of this academic year has been spent in lockdown, with students using the internet to access home learning. Any parent still struggling with securing engagement with home learning for their child, please make contact with the relevant Head of Year so that we can support you with this before the term ends.
In the final week of term I will write to parents outlining summer holiday activity and hope to provide some detail about the start of the new academic year in September 2020.
Thank you for your support.
Yours faithfully
Wanda Golinska
Headteacher
---
17th June 2020
Dear Parent/Carer
This week we have seen the first of our increased numbers in attendance. All Year 10 and Year 12 Level 3 students have been invited to attend once a week this fortnight and so far we have
had a very positive response. More than 70% have attended to date and it was a joy to greet
more of our students once again. Once we are confident with our initial activities centred around student well-being and engagement with virtual school, we will plan different lessons to help students to catch-up. There will be no major changes to the shape of our provision this term other than some small changes to timings to incorporate all subjects.
Remote education will remain the predominant mode of education for the rest of this term for all students with some on site provision supplementing this work.
From 22nd June until the end of summer term

On-site provision for vulnerable students in Year 7-9
On-site provision for Year 10 students in small groups.
On-site provision for Year 12 Level 3 students in small groups.
Virtual school continues for Years 7-10, Pre-post-16 (year 11), Year 12 and IG
Parent survey
Thank you for so many positive comments around our provision for your child. Many of you have indicated a high level of satisfaction in relation to the home-learning activities despite the challenges you face at home and those that teachers face with their own new skill sets.
We have put together a FAQs document that incorporates responses to further questions from parents. Please click here to view this document.
Additionally, we have already asked parents of Year 10 and Year 12 students to review our 'Safety Measures at School' document which captures changes to protocols and on-site physical changes to ensure social distancing and strict hygiene regimes. Please take the opportunity to review this document here.
As soon as we receive government direction about re-opening of schools in September we shall write to inform you of our plans. Meanwhile, please enjoy our weekly newsletter Southfields Spirit.
Thank you for your continued support, in particular, with home-learning.
Yours faithfully
Wanda Golinska
Headteacher
---
5th June 2020
Dear Parent/Carer,
I hope you and your family were able to take a break from virtual school over the half term and enjoy some of the better weather that we were blessed with last week.
Thank you to all parents/carers who responded to our survey. We have had over 400 responses and are preparing a FAQs document to share with you soon.
Since my last letter dated 22nd May we have received two pieces of information from the Government that will enable us to move forward. The first "Guidance for secondary provision from 15 June" was released on Monday 25th May. Secondly it was confirmed on the 28th May that the five tests that were set to enable the continued easing of the lockdown were being met.
The "Guidance for secondary provision from 15 June" now enables us to work with the staff to plan to offer some face to face support which will supplement the remote education for no more than a quarter of Year 10 and Year 12 at any one time.
It is clear that remote education will remain the predominant mode of education for the rest of this term for all students with some on site provision supplementing this work.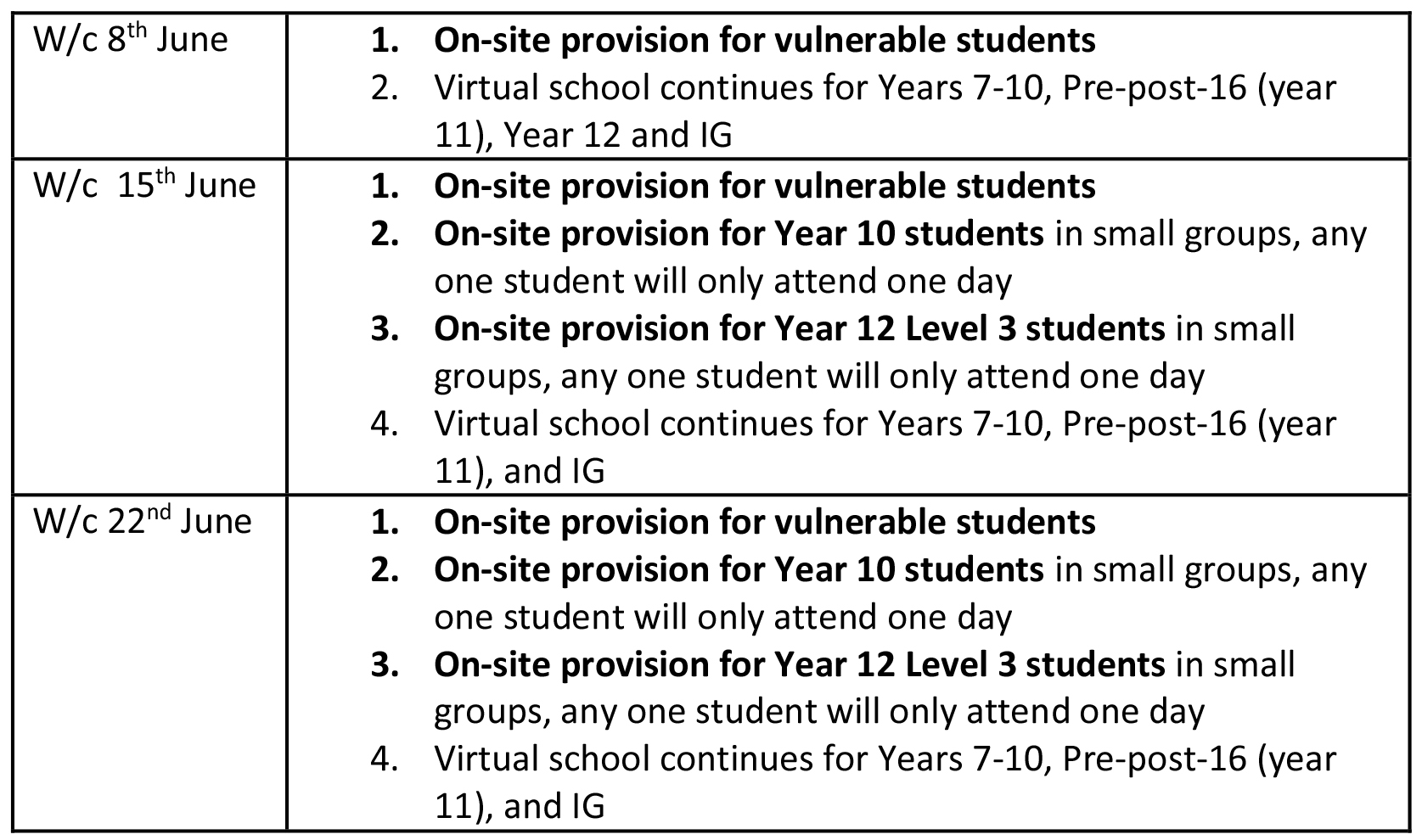 Please bear in mind, the on-site provision will not be school as normal.
Next week we shall communicate with parents of Year 10 and Year 12 students to provide you with the detail of arrangements and a survey so that parents can inform us about the attendance of their child. We will also share the changes that have taken place on site alongside staff training to ensure parents/carers have confidence in our safe provision.
Thank you for your continued support and please keep safe.
Wanda Golinska
Headteacher
---
22nd May 2020
Dear Parent/Carer,
There has been much speculation on the issue of re-opening schools from the 1st June.
As mentioned in my letter last week, we are taking careful steps to ensure we are ready to re-open partially when it is safe to do so.
We will not re-open in the week commencing 1st June. We will continue with our reduced provision for children of key workers and those children considered to be vulnerable.
Alongside this we are completing risk assessments and protocols to ensure our site and staff will be ready to receive more students. We plan to receive some Year 10 and Year 12 students from the 8th June. This means we would invite students to attend for specific activities that would be focussed on:
Student well-being
Support for students to engage with their home-learning
Introduce a recovery curriculum
And if possible, engage with some on-site lessons
All of this would happen with small numbers of students on-site, for reduced periods of time and with staggered starts. It will not be school as normal and will only happen if our Trustees agree the risk assessment and re-opening. Additionally, we will continue to check the government updates and hence, provisional plans are subject to change.
Half-term
Meanwhile, lessons in virtual school for all year groups, including all the pre-post-16 new classes, will pause over the half-term starting Monday 25th May. Students can complete work, or, catch-up, or, make good use of the break.
Virtual school, the reduced on-site provision, Year 7-9 off-line work booklets and Google Meet assemblies will resume on Monday 1st June.
I attach a letter from the Director of Children's Services and our own newsletter celebrating our work in lockdown and even capturing some pictures of the Academy site being adapted for social distancing.
Please take the opportunity to take a break from home-learning and enjoy the week safely and socially distancing.
Best wishes
Wanda Golinska
Headteacher
The Local Authority, Wandsworth Borough Council, have also written to all parents in the borough with details on how they are supporting the reopening of schools.
We have also written to Parents and Carers about Home Language examinations that students were due to sit this summer.
---
12th May 2020
Dear Parents/Carers,
I hope that you are all able to enjoy some of the recent sunshine that we have had and are looking forward to more next week.
I am sure that many of you will have heard the Government's announcement regarding schools. Those of you with primary school aged children may, very understandably, feel anxious regarding a possible return to school in June. For all of you who are parents/carers of Southfields Academy students, you may also feel anxious that it appears secondary schools may open for Year 10 and Year 12 in June and not fully reopen until September.
Most importantly, your children may also be feeling anxious and/or upset at what looks likely to be an extended period of school closure. There have certainly been tears in the households of some staff when their children realised that secondary schools would remain closed for now. However, it is vital that we, as a school and community, start to look and plan for the future.
What preparations is the school making for the future?
All of us – school staff, parents/carers and students - want schools to reopen as soon as possible but of course; this can only be done when it is judged safe enough to do so. Whilst we wait for this moment to arrive, we would like to reassure you on three fronts:
Firstly, when the time is right for secondary schools to reopen, we will be doing everything we can to make sure that this happens in as safe and secure a way as possible. The wellbeing of both our students and staff will remain paramount when further steps to reopening are taken.
Secondly, we do not intend to rush things. We are already considering options regarding how school might reopen on a partial basis with students on reduced timetables, or certain year groups in on certain days, for example, to allow as much social distancing as possible, if this remains necessary. Before we reopen, we will communicate a clear plan to parents/carers and students. This will include planning for additional pastoral support and curriculum changes if/where we feel appropriate to support our students with both their emotional and academic development.
It is crucial that all Year groups, particularly Years 7-9, engage with the work being set so that they do not get behind in their studies. Heads of Year are there to support you if you are having difficulties engaging your child in this work.
Thirdly, if we are to remain closed until the summer (for all but children of key workers and vulnerable students), we will review our current working practices and work-setting guidance. I am extremely proud of how hard our staff have worked to provide our students with the best possible learning opportunities during this time and the exceptional professional standards that they have maintained during such challenging times. I – and our staff - are also very proud of the great efforts parents and carers have made to help their children keep learning. Well done to you all!
However, if we are to continue with school closures for some weeks to come, we will look at what more we can do to help you, and your children, balance learning with long-term wellbeing. This is now very much a marathon, not a sprint. We will communicate any changes to our home-learning model with you as soon as possible. In the meantime, please remember to do what you can and keep communicating with us re any difficulties you, or your child, may be experiencing. All staff are aware of the challenges you may face and we will continue, as always, to help your children in any way that we can.
During this time, it is inevitable that young people may be spending more time online. It is worth parents/ carers monitoring this online activity closely, since this can lead to increased online gambling risks - sometimes through gaming and in-app purchases. Please see the parent section of the Academy website for more information and a useful video. We will also be posting guidance for students through the Home Learning booklet and Google Classrooms.
As we have stated in all of our correspondence with you, we know that everybody's circumstances are different, and some will be very challenging at this time.
As such, a reminder from me that we continue to run emotional support services for students remotely and are working with a number of other agencies who are helping young people with the current situation. Please contact your child's Head of Year if you feel your child may benefit from support or contact the welfare phone on 0743 779 4201.
Thank you to those of you who contacted us following our recent letter.
Ramadan
Staff are aware that some students will be fasting at present, which may be affecting their energy and concentration. Please let us know if this may be impacting on your child's ability to complete their schoolwork and we will, of course, ensure that our communication with you is sensitive to this. To those families/households taking part in Ramadan, we wish you a peaceful and reflective close to the month and hope that Eid celebrations can still be enjoyed despite current circumstances.
Again, I thank you for your continued patience and perseverance and our thoughts are with those of you who have experienced difficulties and loss through these trying times.
Regards,
Jacqueline Valin
CEO Southfields Multi-Academy Trust